Baltimore Sun Media Critic Defends Coverage: 'We Don't Just Chase the Violence'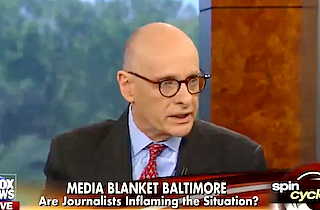 Baltimore Sun's voluble media critic David Zurawik defended his paper and CNN on Fox's MediaBuzz Sunday morning, arguing that some elements of the "media" were in fact covering the Freddie Gray case before protesters turned into rioters.
Many faulted news outlets for only paying attention to the demonstrations once they turned violent, ignoring the preceding days of peaceful protest. According to a Mediaite study, both CNN and MSNBC had done thorough reporting from Baltimore in the days before, though Fox News was nowhere to be seen.
"We don't just chase the violence," Zurawik said. "But out of this week, if nothing else, we've had a much better look at the causes of civil unrest in this country."
Zurawik added that the hours of footage had humanized victims of police brutality and those that protest it. "We see them as our children, and that makes this situation redeemable," he said. "We don't have to say we're under assault, this can't be safe, it's all hell. We have actually had a smarter discussion."
Zurawik did reserve criticism for CNN ignoring the initial violence last Saturday to cover the White House Correspondents Dinner. "I couldn't believe that CNN couldn't do a cut-in, this exercise of black-tie narcissism while a city is on the edge," he said. "I'm still waiting for a CNN executive to tell me who made that decision."
Watch the clip below, via Fox News:
[Image via screengrab]
——
>> Follow Evan McMurry (@evanmcmurry) on Twitter
Have a tip we should know? tips@mediaite.com