UPDATED: Bannon Was Reportedly So Concerned About Inevitable SNL Portrayal That He Reached Out to Darrell Hammond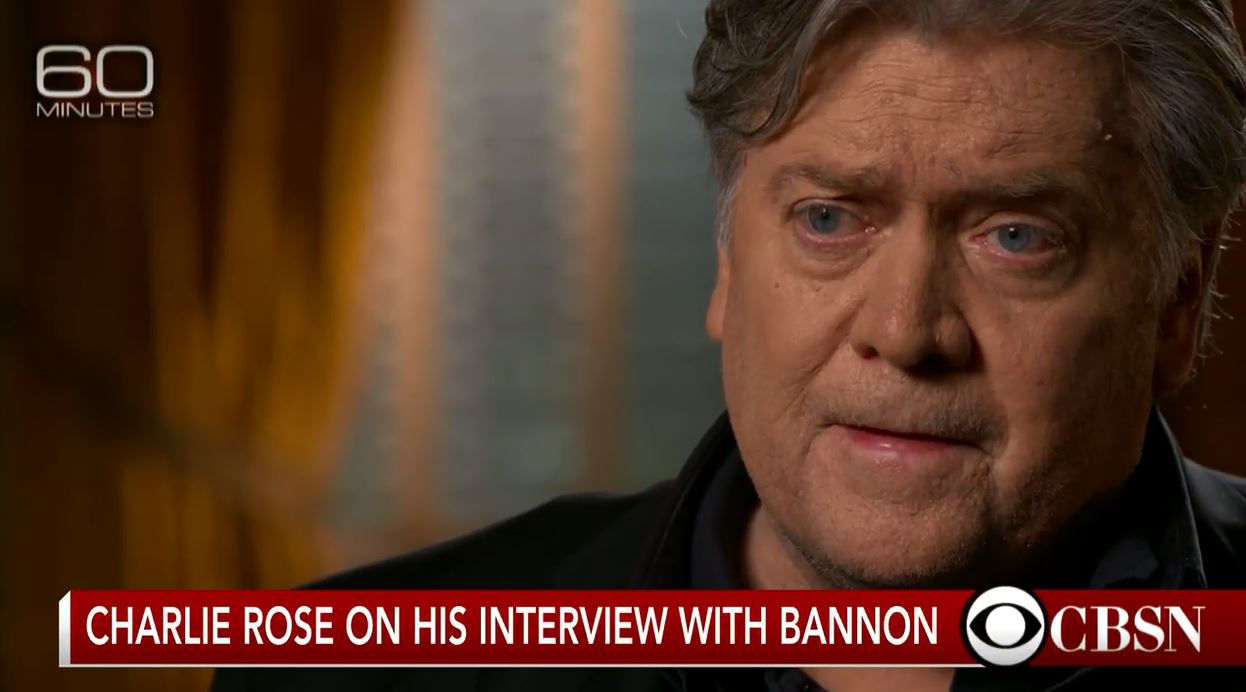 During a 60 Minutes interview with CBS anchor Charlie Rose, former White House chief strategist Steve Bannon claimed he wasn't losing any sleep over Saturday Night Live's portrayal of him — even though prior reports show quite a different story.
"I don't need the affirmation of the mainstream media. I don't care what they say. They can call me an anti-Semite. They can call me racist. They call me nativist. They can call me anything you want, OK? As long as we're driving this agenda for the working men and women of this country, I'm happy," Bannon told Rose in response to a question regarding SNL's caricature of him.
However, a report on Bannon's reaction to the SNL sketches contradicts the former White House staffer's claims.
According to the Wall Street Journal's Eli Stokols, Bannon was so concerned about the way SNL would brand him that he contacted Darrell Hammond, a member of the show's cast, to "see what the writers were planning." Stokols explained Bannon's concerns with the SNL sketches in a Twitter thread:
This reminds me of a story I've had in my notes. File under: "Bannon doth protest too much"… 1/ https://t.co/GX3gX5PCll

— Eli Stokols (@EliStokols) September 11, 2017
In short, Bannon did care very much about how SNL would portray him – because he knew Trump would see and care about it…

— Eli Stokols (@EliStokols) September 11, 2017
So Bannon reached Darrell Hammond, the SNL announcer and only conservative cast member, to see what the writers were planning.

— Eli Stokols (@EliStokols) September 11, 2017
Ultimately, he was relieved about the 'grim reaper' character the show used for him, altho that sketch would hurt him w Trump, too.

— Eli Stokols (@EliStokols) September 11, 2017
Stokols later updated this Twitter thread to note that a source close to Bannon denies this allegation:
Updating: Source close to Bannon just called, insists this "did not happen." https://t.co/2PdnpjbnIn

— Eli Stokols (@EliStokols) September 12, 2017
Additionally, per a February Washington Post article, White House aides said Trump "was especially upset" by SNL's Bannon-Grim Reaper skit, as it portrayed the president being manipulated by the character.
As far as Trump caring about SNL, there's little denying that he doesn't. The president has continuously slammed the show, calling it everything from a "boring and unfunny show" to just "really bad television!"
SNL has been blessed with a ratings-boost in Trump's America, as the weekly comedy show reached its highest peak in over 20 years. Alec Baldwin as Trump and Melissa McCarthey as Sean Spicer are highlight sketches in the show's recent arsenal.
This post has been updated to include Eli Stokols latest tweet.
[image via screengrab]
Have a tip we should know? tips@mediaite.com