Barack Obama Chides Local Reporter For His Interruptive And Combative Interview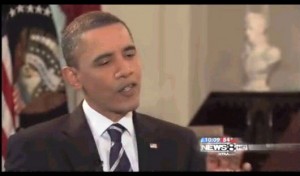 President Barack Obama conducted interviews with a number of reporters yesterday at the White House, talking up his administration's efforts to reduce the budget deficit. One lucky reporter to get the plum assignment was Brad Watson from Dallas/Ft. Worth's WFAA, who appeared far more interested in airing his questions to the president (or even getting under his skin) than getting a topical response. At the end of the interview, Obama privately chided the reporter for interrupting him, which turned out to be the most newsworthy bit of the whole segment.
In what appeared to be a junket-style set of interviews, the notably calm and cool Obama became notably irked by Watson's aggressive style of interviewing. But was the reporter simply challenging the president — as Watson states near the end of the segment — or treating a sitting president improperly by interrupting the commander-in-chief and asking impolitic questions like "Why do you think you're so unpopular in Texas?"
After watching the finished segment below, one gets the sense that Watson seemed more motivated to show his own fearless bravado in the face of the leader of the free world than he was in actually getting any newsworthy responses from Obama.
To be fair, Obama's interview style is often so disciplined — and prone to filibuster on even the most basic questions — that one can understand Watson's motivation to some degree. However, the final segment that aired last night reveals that Watson was far more interested in promoting his challenging stance than anything the president said, evidenced by how much of Watson's voiceover and questions are featured instead of Obama's answers.
Watch the clip below, courtesy of WFAA.com:

(H/T TheBlaze)
Have a tip we should know? tips@mediaite.com