Obama Talks Romney On Letterman: 'If You Want To Be Pres, You Got To Work For Everybody'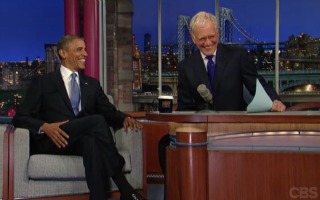 President Barack Obama stopped by David Letterman's show Tuesday night, where he weighed in on the hidden camera footage of Mitt Romney telling donors that 47 percent of voters are "dependent" on the President.
Here's what he had to say:
Well, I don't know what he was referring to, but I can tell you this. When I won in 2008, 47 percent of the American people voted for John McCain, they didn't vote for me. And what I said on election night was, even though you didn't vote for me, I hear your voices and I'm going to work as hard as I can to be your president. And one of the things I've learned as president is you represent the entire country. And when I meet Republicans as I'm traveling around the country, they are hard working, family people, who care deeply about this country and my expectation is that if you want to be president, you got to work for everybody. Not just for some.
Later, the President noted that people generally understand that "you're going to make mistakes on the campaign trail. What I think people want to make sure of though is that you're not writing off a big chunk of the country."
President Obama also credited Americans' hard work with helping to lift the country out of the recession, specifically heralding single mothers and small businesses. "There are not a lot of people out there who think they're victims, who think they've entitled to something," he added.
He also said he hoped to cut the national debt by doing away with ineffectual government programs, while noting that, "The American people are a lot more thoughtful, decent, and full of common sense than we've seen out of Washington over the last several years."
On the matter of Libya and the unrest we've witnessed across several predominantly Muslim nations these past two weeks, the President shared that the Innocence of Muslims video often linked to the violence is essentially a straw man being used by "extremists and terrorists," adding that, while the video is offensive, there's no excuse for violence. He also spoke about our military involvement overseas:
We can wind down our military activities in places like Iraq and Afghanistan, but we have to remain engaged because whether we like it or not, America remains the one indispensable nation. And even countries that criticize us end up looking to us for leadership, because without our presence, without our involvement and our engagement, things would be an awful lot worse.
The President also revealed that he weighs 180 pounds, isn't terribly interested in seeing Letterman in the buff, and — in a comment that'll likely give people on both sides of the gun control issue something to talk about — revealed that, while he's worried that his daughter are growing up, the two girls are "surrounded by men with guns."
Letterman also referred to Clint Eastwood's empty chair speech at the RNC, asking the President if he has anything to say to the empty chair beside him.
Have a look at the President discussing Romney's comment below, via CBS:
…And here's the President discussing Libya and war:
Have a tip we should know? tips@mediaite.com