Barbara Boxer: Hobby Lobby Case 'Slippery Slope' to Denying AIDS Medication, Vaccines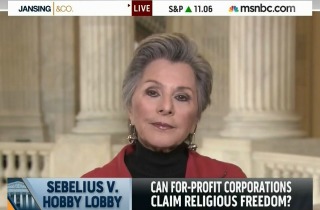 In an appearance on MSNBC on Tuesday ahead of oral arguments before the Supreme Court in a case brought by the retailer Hobby Lobby against the government's directive in the Affordable Care Act to mandate covering certain forms of birth control, Sen. Barbara Boxer (D-CA) said that the firm was being hypocritical by not objecting to insurance packages that also cover Viagra. She added that, if the Court eventually finds in Hobby Lobby's favor, it could be a "slippery slope" which would allow employers to deny their employees insurance which covers vaccines and AIDS treatment medication.

MSNBC anchor Chris Jansing began by reading a statement from House Speaker John Boehner (R-OH) who asserted that the Court is hearing a case which the Founding Fathers would never have believed could have been possible.
"All the women, and the men, who work in corporate America have a right to their religious freedom," Boxer said, taking issue with Boehner's statement. "And, for all the arguments that I've heard, the fact that people would be so passionate about denying women birth control in the 21st Century is shocking."
RELATED: Dem Rep. Attacks Hobby Lobby for SCOTUS Case, Trying to 'Impose a State Religion on Everybody'
"Would he feel the same way if the next thing they say is, 'You know, we don't really believe in these drugs people take for AIDS. Let's not do that, and let's not do vaccines,'" the California senator continued. "This is a slippery slope."
"If you work for a boss that doesn't respect your religious freedom, that is really unfair," she added.
Jansing asked if the Court could initiate an "attack on Obamacare" if they find in favor of Hobby Lobby. Boxer said that such a decision could be an attack on not just Obamacare but anti-discrimination on the basis of race and sexual preference.
Watch the clip below via MSNBC:
[Photo via screen grab ]
— —
> >Follow Noah Rothman (@NoahCRothman) on Twitter
Have a tip we should know? tips@mediaite.com