Barbara Boxer: 'The Benghazi Scandal' 'Starts With Republicans' Who Cut Funding For Embassy Security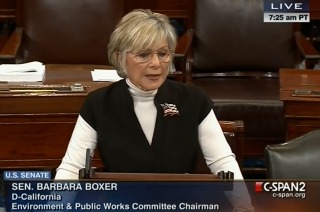 In a speech on the Senate floor on Tuesday, Sen. Barbara Boxer (D-CA) said that Republicans in Congress should look into a mirror when asking why the attack on an American consulate in Benghazi was as deadly as it was. She said that House Republicans who voted to cut security funding for overseas embassies are directly responsible for the lack of security personnel at that outpost. Boxer's claim is contradicted by testimony delivered before a Congressional Oversight Committee hearing last week.

RELATED: Darrell Issa, Whistleblower Blast Dem Rep Who Claimed GOP's Budget Cuts Contributed To Benghazi Deaths
Boxer exonerated former Secretary of State Hillary Clinton on Tuesday for any responsibility relating to the Benghazi attack, saying that it she testified before Congress in good faith and took full responsibility for what occurred under her watch.
"It takes funding to protect a consulate," Boxer said. "Who cut the funds from embassy security? The Republicans in the House. That's who."
"If it wasn't for the Democrats, it would have been cut more," She added. "So, I think the Benghazi scandal, in quotes, starts with the Republicans looking in the mirror."
Boxers claim contradicts findings by the Accountability Review Board and former Libyan regional security officer Eric Nordstrom. Nordstrom testified last week that "[Charlene Lamb, the deputy assistant secretary responsible for embassy security] said that resources was not an issue."
Watch the clip below via C-SPAN 2:
> >Follow Noah Rothman (@NoahCRothman) on Twitter
Have a tip we should know? tips@mediaite.com