Barbara Walters Announces Her Retirement On The View: 'I'm Not Walking Into The Sunset'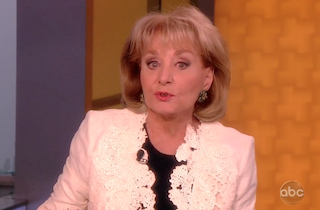 At the top of the show on Monday, The View co-host Barbara Walters announced she'll be retiring in the summer of 2014. Reflecting on her long career, Walters thanked those who have joined her for the ride — and hoped she may have inspired other young women to pursue a television career.
Walters began her announcement with a trip down memory lane, via a video, narrated by Walters herself, chronicling her start, her many years in the industry, and some of her particularly notable interviews — ranging from world leaders to celebrities.
"In the summer of 2014, a year from now, I plan to retire from appearing on television at all," Walters announced, noting that she's been on television for a whopping 50 years. "It has been an absolutely joyful, rewarding, challenging, fascinating, and occasionally bumpy ride. I wouldn't change a thing. I'm perfectly healthy, this is my decision. I've been thinking about it for a long time, and this is what I want to do."
Walters further added that she will remain co-executive producer of The View and may come back on special occasions, making it clear that: "I'm not walking into the sunset."
Thanking those who have traveled the road with her, she hoped she "may also have inspired other women to make television in front or behind the cameras as a career."
"I smile when some young woman says, 'I grew up watching you on TV,'" she said. "It's their time now."
Take a look, via ABC:

Have a tip we should know? tips@mediaite.com