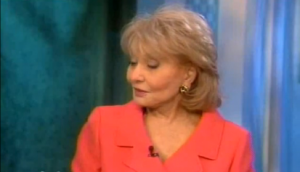 Early this morning, television icon Barbara Walters announced to the audience of The View that she will be taking a break from the program this summer to undergo heart surgery. She and her co-hosts (whom she had only told about the procedure shortly before the taping) then had a long discussion about the surgery, her health, how the issue was discovered, and whether she was frightened. Video of the exchange after the jump.
The announcement came during the show's Hot Topics segment. When it came to be Walter's turn, she turned to the camera and gave a very straightforward description of the issue:
"Later this week, I'm going to have surgery to replace one faulty heart valve. Now, lots of people have done this and I have known about this condition for a while now. And my doctors and I have decided that this is the best time to do the surgery and, since the summer is coming up, I can take a nice vacation. Earlier this morning I told my wonderful and supportive pals here…and I'm now telling you. It will be a surprise to many friends and to our loving viewers."
The rest of the ladies then took turns asking Walters about her condition and how it was discovered. Soon, Whoopi Goldberg asked the question that many wonder when someone is going under the knife; is Walters scared?
"Look, nobody wants to have this kind of surgery. It's not elective, let's say. I mean, it's not like having your, I don't know what, your face lifted. But it's an operation that's done so often and I have very good doctors and I have the support and love- my daughter, of course, is coming in. So I don't think I'm really scared. I'm glad it's going to be over with."
We wish Barbara the best of luck and a deserved vacation while she recuperates until her planned return in September. Until then, she can expect a ton of adoration and support from her fans. And that's not it, Elizatbeth Hasselbeck promised that the ladies will come by to "bug" her at home. Lucky her.
Have a tip we should know? tips@mediaite.com