Barbara Walters Discusses The View's Political Impact, Defends Jenny McCarthy to Kurtz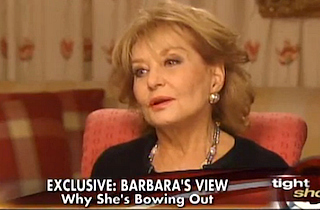 Upon her last season on the popular daytime talk show The View, Barbara Walters spoke to Media Buzz's Howard Kurtz about her wide-ranging career as a news and entertainment anchor, the changes to TV-based journalism, and how The View created a new format for television discussion, especially for both female voices and female viewers.
Kurtz asked Walters why a show like The View, which has never shied away from political topics in the past, ignored the government shutdown and the drama over Obamacare.
"The View is not Meet the Press," Walters said. "A lot of people do get their news from The View. But it's supposed to be entertaining and upbeat. I didn't think the shutdown was entertaining or upbeat."
"But in the past, you've had a political impact," Kurtz said. "During campaigns, you've had presidential candidates on."
"But it's not a political show. It was never meant to be. The fact that you can have a daytime show and do newsworthy subjects—that is what was new," Walters said. "The fact that you can have primarily women discussing, arguing, disagreeing, live, that's what was new about this show."
Walters also defended new cast member Jenny McCarthy, who came under fire upon joining the show for her widely-discredited views on vaccines.
"I think the criticism about her was unfair, and it was criticism that had to do with her personal views," Walters said. "It's not a subject that we have discussed on The View."
"I'm very proud of the people" on the show, Walters continued. "I didn't create them. Did I help to launch them? Yeah, and that makes me feel good. I have always been a big booster of other women. I've always worked with otehr women. If I have any legacy, that's it."
Watch the full clip below, via Fox News:
[Image via screengrab]
——
>> Follow Evan McMurry (@evanmcmurry) on Twitter
Have a tip we should know? [email protected]