Barbara Walters May Have Gotten Chickenpox From Kissing Actor Frank Langella, Reports Daily News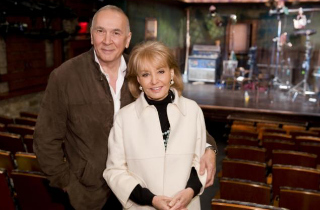 Upon returning to The View yesterday from a bout with chickenpox, Barbara Walters hinted that she contracted the illness from a "well-known" actor she kissed on New Year's Eve. According to the New York Daily News's "[email protected]" page, that actor was Oscar winner Frank Langella of Frost/Nixon fame.
"I gave him a New Year's hug and a kiss on the cheek," Walters told her View co-hosts without naming names. "The next day he left. What he didn't know then, and I didn't know at all, was that he was about to develop a bad case of shingles." In adults, the same virus that causes shingles may also lead to chickenpox.
A friend of Walter's "assures" the Daily News that Langella was indeed the actor Walters believes she contracted the virus from.
At a New Year's party in Miami, Walters reportedly ran into the actor and exchanged a kiss on the cheek and a hug. The Daily News' insider joked that "We were all on Google checking if you need to exchange fluid to catch it. It seems that Barbara is telling the truth, and a kiss on the cheek would be enough to pass it on."
In combination with a nasty fall and a hospitalization, Walter's bout with chickenpox kept her off The View for six weeks. Her return on Monday was as warm as expected and, as we reported, it included comedian Mario Cantone dressing up as a farmer and singing a tune with the help of four dancing "chickens."
UPDATE: Watch Walters admit the Langella connection on today's episode of The View, below via ABC:
[h/t [email protected]]
Have a tip we should know? [email protected]