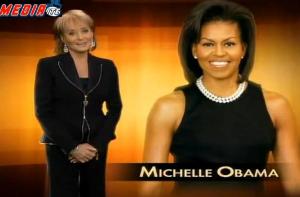 There was Glenn Beck, Gaga, and Glambert, but the most fascinating person of 2009, according to Barbara Walters, was First Lady Michelle Obama.
The subsequent interview showed just what is so fascinating about Obama – a mixture of hard and decidedly soft news angles.
You know what you're in for when Walters started her big reveal by saying, "I was recently told I should pick this next person as most fascinating for her arms alone." Then it's a dramatic half-turn, and, "But First Lady Michelle Obama is shaping up to be much more than the sum of her parts."
During the short interview, Obama described what she most wants to accomplish. "I think I've begun to lay the foundation to a conversation about the health of our kids," she said.
But it didn't take long – in fact, it was the very next question – to get to this exchange:
Walters: Can we talk about your arms.
Obama: My arms?
W: Your arms.
O: Why certainly.
W: Yes, there has been so much written…
O: Why would you want to talk about my arms?
W: So do you feel pressured to have great arms? Do you have to get up every day and do the exercises? I'm so glad you wore a sleeveless dress.
Not unexpected, but fascinating?
Obama joins some other first ladies to be named most fascinating, including Laura Bush in 2002 and Hillary Clinton in 1993. Last year's winner stayed in the family – President-elect Barack Obama. Here's a good breakdown of the past 'most fascinatings'.
The Michelle Obama interview:

—–
» Follow Steve Krakauer on Twitter
Have a tip we should know? tips@mediaite.com