Barbara Walters Takes On Piers Morgan Over Reason Behind Gun Control Advocacy: Is It Because 'Ratings Go Up'?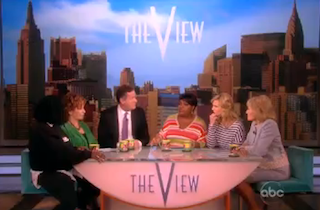 CNN host Piers Morgan paid a visit to the ladies of The View on Thursday, where he discussed gun control among other things. Making the same arguments against assault rifles and high-capacity magazines he has for several months now, Morgan criticized the NRA's "spin." Barbara Walters, however, questioned how genuine his nightly advocacy is.
For starters, Walters noted the difference between Morgan's approach to his CNN show, versus Larry King's non-opinionated style. Morgan contended that while he admires King, King was on TV in a different era — he didn't have to face MSNBC and Fox News. Now, he said, "you have to make a lot of noise," and CNN has to be competitive.
Gun control is a topic Morgan visits almost every night on the show, Walters observed, asking, "Are you doing that because it is something that is just so important to you? Or because whenever you do it the ratings go up?"
Morgan responded by remarking on Whoopi Goldberg's shirt that read "SHES" (for Sandy Hook Elementary School) and relaying the response Britain had to a school shooting in the 1990s. He contrasted that with the situation in this country, as Elisabeth Hasselbeck asked about armed guards at schools.
"We need to have less guns," Morgan said emphatically. While the recent shootings involved AR-15s and high-capacity magazines, the current debate has tossed those topics out the window and are arguing over background checks, Morgan lamented. "It's a disgrace."
He further went on to criticize the NRA's "nonsense" about "more guns, less gun crime — which led Walters to mention those who've been attacking Morgan.
"They can attack me all they damn well like," he replied. "I don't care.
Take a look, via ABC:

Have a tip we should know? tips@mediaite.com