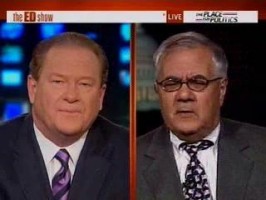 MSNBC host Ed Schultz usually reserves his toughest political shots for those on the right.
But last night, in an interview with Democratic Rep. Barney Frank, things got heated as the pair debated Wall Street bonuses.
"We dished out billions of dollars to Wall Street and they're doing the bonus dance right now," said Schultz early in the exchange. "That wasn't in the fine print, Barney, you know that."
"Ed, don't condescend to me," said Frank. Schultz: "I'm not condescending to you I'm just trying to get to the bottom of the story."
Frank drove home the point that "liberals missed the boat here," in their attacks on Democrats for letting the bonuses go through, and to such a high degree. Frank pointed to the Bush Administration as the problem, not the current one. But Schultz wasn't satisfied. "You can't tell me that 119,000 people on Wall Street just happened to qualify for a quarter of a million dollar bonus here," he said, which got Frank yelling that that wasn't what he said.
It was a lengthy, tense interview between two individuals who agree on a lot more than they disagree with. The frustration of Schultz over the bonuses and Frank's frustration over the accusations that there was something he could have done about it led to several explosive moments. Frank was characteristically argumentative, but in a style usually reserved for a showdown with Bill O'Reilly and not one on MSNBC, which might traditionally be a more welcome environment for the Democratic congressman. But with Schultz' pressing – toward the end he said "I don't want to leave this interview with any misconceptions right now: You're ok with the bonuses?" and Frank just exploded – we got a surprisingly combative exchange.
Here's the full interview:
—–
» Follow Steve Krakauer on Twitter
Have a tip we should know? tips@mediaite.com