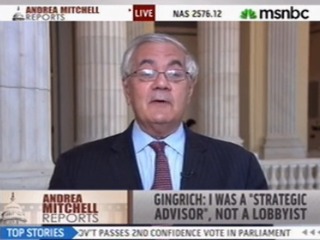 What has been your favorite feud of 2011? Mine is Melissa and Teresa's feud from The Real Housewives of New Jersey, followed closely by Newt Gingrich's ongoing spat with Barney Frank. MSNBC's Andrea Mitchell took a look at Gingrich's recent comments about Frank's lack of interest in the business community or the private sector before turning things over to Frank for a response.
"So. Your turn," said Mitchell. "How far left are you?" Here we go.
RELATED: Barney Frank Talking Trash: Newt Gingrich Is A 'Lobbyist And A Liar'
Well, that's just blatant nonsense. Of course I work very closely with the private sector. I'm very proud, for example, that the fishermen in Massachusetts — a very tough private sector entity — are very pleased with my work for them. I have had good relations with many of the financial institutions, with the community banks and others. That's just an example of Mr. Gingrich saying things that aren't remotely close to true. Of course there's a difference between the private sector and the public sector.

I do understand why Mr. Gingrich is angry at me; it's now clear. He was apparently getting 30,000 dollars a month from Freddie Mac for many years. I gather he first said as an historian, making him, as I said, the word's highest paid historian in history. And it ended — I just learned this — in 2008. And it ended because of legislation that was enacted when I became chairman of the committee that put Fannie Mae and Freddie Mac into conservatorship.
It was because of Gingrich's role within and defense of Freddie Mac, Frank surmised, that congressional Republicans at the time did not pass legislation restraining Fannie Mae of Freddie Mac.
Frank continued, adding that, as a businessman working for Freddie Mac, Gingrich "produced no good or service," but, rather, influence public policy. Frank also recalled a time when Gingrich called out then-Senator Barack Obama for having taken money from Freddie Mac and Fannie Mae.
Have a look, via MSNBC:

Have a tip we should know? tips@mediaite.com