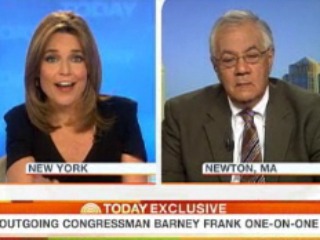 It's Barney Frank O'clock, kitties! The Massachusetts congressman, who recently announced his plans to retire after he completes his current term, dealt Today show host Savannah Guthrie a healthy helping of sarcasm after taking issue with her questions and comments. *rubs hands together* Here we go.
After Guthrie asked him whether his decision to step down may result in leaving his fellow Democrats in a lurch, Frank turned his focus on The Media:
I wish we could talk substance sometimes in the media. I know that's against kind of probably the rules. And I'd like to talk about public policy; I regret that we can't.
Parade, meet rain. Amiright?
Guthrie, God bless her, remained cool throughout, even laughing at Frank's quip about the expectation that he'd serve well into his 100s.
Barney then informed Guthrie that she exemplifies "what I think of the change in the tone. You've managed to ask all sort of negative questions." He then pointed a finger at "gotcha journalism" for playing a role in the public's very negative perception of Congress right now.
RELATED: Greta Van Susteren Sends Off Rep. Barney Frank With Classic 2008 Bill O'Reilly Shoutfest
Guthrie smilingly noted that, while the media does play a role in shaping how the public views institutions like Congress, Frank is very much "known for your sharp and acerbic, at times, tongue."
"Well congratulations," he responded. "You're 4 for 4 in managing to find the negative approach."
Have a look at their joyful exchange, via NBC:
h/t Towleroad
Have a tip we should know? tips@mediaite.com