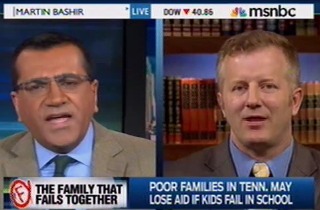 Tennessee state Sen. Stacey Campfield (R-Knoxville) and MSNBC host Martin Bashir engaged in a bitter back and forth over the GOP politician's proposed reform which would create an incentive for parents to engage in their kids' education by tying benefits to school performance. The pair exchanged insults in a fiery battle over the impact of the proposal on vulnerable and impoverished families.

Bashir said that Campfield's proposal, which he characterized as "study or starve," would inhumanely rob impoverished children of the nutrition they need to survive through no fault of their own.
Campfield accused Bashir of opening the interview with "lies." He said that his proposal has nothing to do with withholding nutritional assistance of any kind. Campfield added that his proposal would incent parents of young children to help them achieve an education.
"If you removed 30 percent of the moneys these families receive, these families that are already vulnerable, will you not be further making their circumstances even more difficult," Bashir asked.
"No," Campfield replied.
"Given that these are families already in desperate need, why would you harm them even further?" Bashir inquired.
Campfield attempted to reply that the only way to lift someone out of poverty was to help them improve their circumstances, and the fastest way accomplish that is through an education.
"The goal is not to reduce anyone's payment," Campfield replied. "The goal is to get parents involved in their education so the kids don't become the next generation of — in poverty."
"None of this has to do with food stamps," Campfield insisted while rolling his eyes.
"This is money – this is cash these families use on many, many occasions to purchase food," Bashir asked.
"Martin, there are eight different food programs," Campfield insisted. "None of this is touching any of them."
Bashir cited a Tennessee Democrat who called Campfield's proposal "bigotry at its best," and asked if Campfield had a better way to describe his proposal.
"I call it parental involvement at its highest level and getting people out of poverty," Campfield replied.
Campfield and Bashir argued over whether the MSNBC host can take criticism. Bashir replied that what he was concerned about is Campfield's attempt to penalize parents by forcing their children to suffer.
Watch the segment below via MSNBC:
> >Follow Noah Rothman (@NoahCRothman) on Twitter
Have a tip we should know? tips@mediaite.com