Martin Bashir Asks Texas Democrat If He Will Use AR-15 To Protect Repeatedly Vandalized Mural Of Obama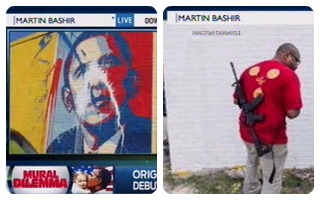 Nobody needs an AR-15. That is, unless you are using that weapon to protect a repeatedly vandalized mural of President Barack Obama. On Wednesday, MSNBC host Martin Bashir interviewed a Texas businessman who has had to continually repaint a mural of the president which he often finds has been defaced by local residents. During the interview, Bashir pointed out that the businessman is the owner of an assault rifle and asked jovially if he was prepared to use it to defend his property – namely, the mural.

RELATED: Martin Bashir Confronts S.E. Cupp On Gun Control During The Cycle/Bashir Live Toss
On Wednesday, Marcus Davis, owner of a Houston-based diner, joined Bashir to discuss the unfortunate tale of his regularly marred mural of the president. During the interview, Bashir featured the many incarnations of the mural as it has appeared over the years – each time, it is defaced by a paint-wielding vandal.
So offended was Bashir by the insult to the president and Davis himself, Bashir asked if deadly force was in order to protect the mural.
"Thinking of your willingness to protect this mural, Mr. Davis, we also know that, in addition to our support for the president, you support the First Amendment and the Second Amendment," Bashir said. "We have a picture of you with a weapon – I believe it's an AR-15 over your shoulder."
"I have to ask you, would you consider using a weapon like that on someone who was prepared to deface a painting?" Bashir asked.
"In this instance, as in all of the incidents that I may encounter, my preference is to not have to use any violence, any guns, anything of that nature," Davis said. "It is, in my opinion, it is the right to do to defend myself. Now, will I go above and beyond? No, I won't go above and beyond."
"I do value human life, and, no, I don't believe that that's the length to which I will go if there are other measures that are in place," Davis concluded.
Watch the segment below via MSNBC:
> >Follow Noah Rothman (@NoahCRothman) on Twitter
Have a tip we should know? [email protected]