Bashir Eulogizes Margaret Thatcher On MSNBC: 'Brutal,' 'Incredibly Divisive,' 'Not That Effective'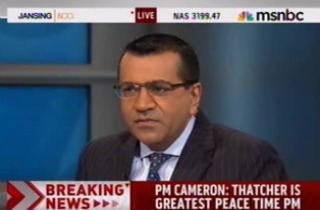 Following the announcement that former British Prime Minster Margaret Thatcher had passed away on Monday, MSNBC twice looked to British journalist and host, Martin Bashir, for his thoughts on her passing. Bashir insisted that Thatcher's legacy was mixed and deserving of far more scrutiny than he said she had received from many in the American press.

RELATED: MSNBC's Martin Bashir Shouts Down Then Boots Republican Guest
Bashir appeared on The Daily Rundown with Chuck Todd on Monday first where he said that the best description he had ever heard of Thatcher was said by former French President François Mitterrand who said the Iron Lady "had the eyes of Caligula and mouth of Marilyn Monroe."
He said that credit is due more to President Bill Clinton and Thatcher's successor, John Major, for achieving peace with the Irish Republican Army. He opined that she was not an especially effective politician on the domestic front. Furthermore, Bashir noted, Thatcher had leveled some "fairly brutal attacks on the business of journalism."
"She was not very kind to journalists at all, and to our profession," Bashir said.
Later, Bashir appeared with anchor Richard Lui where he said that Thatcher, along with President Ronald Reagan, did enjoy many successes during her tenure as prime minister on the foreign policy front.
However, he said that Thatcher was an "incredibly divisive figure" for British voters. He said that her preferred course of "destroying unions" and "un-regulating – deregulating financial markets" was based on her lack of belief in a "cohesive, community society."
Bashir was critical of American punditry for only focusing on the historic nature of her tenure as the first woman prime minister and a figure of significant resolve. "And yet, the reality of living in Britain during that period was not the one that I keep hearing suggested by many people," Bashir said. He noted that she was removed from office by her own party over her support of a flattening of the tax code.
"You can hear people like [Rep.] Eric Cantor already issuing statements that are eulogizing her," Bashir noted. "I suspect that if he were to look at the actual details of her leadership and premiership, he wouldn't have such a rose-tinted view of her performance as prime minister."
> >Follow Noah Rothman (@NoahCRothman) on Twitter
Have a tip we should know? tips@mediaite.com