Bashir Explodes At GOP Guest Who Voted Against Sandy Aid: 'How Many Deaths Do You Need?'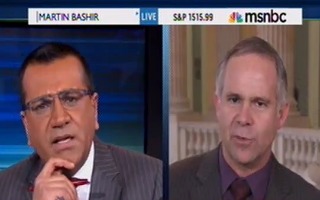 Rep. Tim Huelskamp (R-KS) got an earful from MSNBC host Martin Bashir on Wednesday when he appeared on his program for a wide-ranging interview. Bashir hammered the Republican congressman over his opposition to voting for aid to regions hit by Hurricane Sandy, asking the congressman precisely "how many deaths do you need" before you will vote for federal disaster aid.

RELATED: GOP Congressman Appears On MSNBC To Bash John Boehner For Pushing A 'Tax Hike'
Bashir recounted how voted against aid to Sandy victims because he opposed the decision not to cut other programs in order to create a aid package that did not add to the debt.
"Now, 130 people lost their lives, $62 billion in damage, 72,000 homes destroyed in New Jersey alone, and you voted against Hurricane Sandy relief," Bashir told Huelskamp. "What would have satisfied your threshold of need, sir? Would it have been 500 dead? 1,000 dead? 5,000 dead?"
Huelskamp replied that much of those funds would not have been spent for up to five years. "How many deaths do you need?" Bashir asked again.
"You know it's not about deaths," Huelskamp replied. "Spending the money didn't bring anybody back to life."
"You can't continue to borrow money every single day, like you want to do apparently, and the President of the United States wants to do," Huelskamp continued. "How would you like to pay for your $54 million Mr. Bashir?"
"Please don't impose decisions on myself," Bashir countered. "I have no powers, as you know."
The two engaged in crosstalk as they battled over the how necessary it was to offset funding for aid to disaster victims.
Watch the clip below via MSNBC:
> >Follow Noah Rothman (@NoahCRothman) on Twitter
Have a tip we should know? tips@mediaite.com