Martin Bashir Guest Savages Hannity And Limbaugh For 'Hustling Residue Of Racism'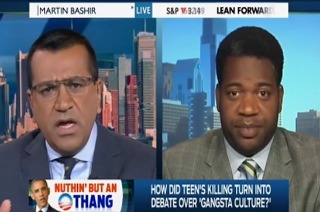 On Tuesday, Lehigh Valley University professor of Africana Studies, James Peterson, tore into conservative media personalities Rush Limbaugh and Sean Hannity over statements they made about Trayvon Martin. Peterson bristled over those hosts calling people like himself "race hustlers," and identified conservatives attacking what they characterized as a culture in the black community that celebrates violence as the people truly "hustling the residue of racism."

"This started off with an unarmed teenager who was gunned down while he was minding his own business," Martin Bashir observed. "How can you explain to our viewers how this suddenly became an excuse to attack black families, so-called gangster culture, drug use? how did that happen?"
RELATED: O'Reilly Tears Into Obama's Race Speech: President Has 'No Clue' How To Combat 'Gangsta Culture'
Peterson dismissed these comments as "racialized thinking" which has a small audience:
The hysteria madness that sometimes comes from the right — some of this has to do with, you know, Sean Hannity and Rush Limbaugh earn a lot of money by speaking to a small minority within the Republican base and a small minority of Americans that still engage in this kind of racialized thinking.
"It's funny they call people like myself race hustlers but they're the ones hustling the residue of racism with these kinds of comments," Peterson declared.
After saying that conservatives lamenting the decline of the nuclear family among African-Americans are displaying a prejudicial level of deference to heteronormative values, Peterson went on to say that true racism exists in the enforcement of drug laws which target blacks excessively.
Watch the clip below via MSNBC:

> >Follow Noah Rothman (@NoahCRothman) on Twitter
Have a tip we should know? tips@mediaite.com