Bashir To Panel: GOP Let Obama 'Build The White House,' But Unacceptable For Him To Live In It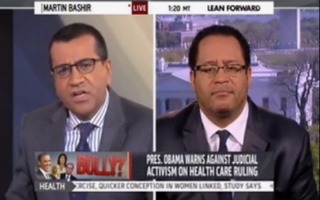 On Martin Bashir's afternoon MSNBC program, Salon Columnist Steve Kornacki, Democratic Strategist Karen Finney and Georgetown University Professor Michael Eric Dyson agreed that Republican commentators have been reduced to using racially coded terms in their description of President Obama's rhetorical battle against the Supreme Court. Bashir concluded after the discussion of the GOP's racially-biased motives that "they're happy for him to have been involved in using his labor to build the White House, but for him to win an election and live in the White House, that's just not acceptable."
RELATED: MSNBC's Karen Finney: GOP Candidates' 'Festering' Racial Stereotypes Can Have 'Lethal Consequences'
Bashir asked Finney first to comment on Republican strategist and Fox News Contributor Karl Rove referring to the president as a 'thug.'
"Coming from Karl Rove, the ultimate in thug politics, I cannot – I don't want to even go there," said Finney. "With some of the activitiy we've seen on the rightwing blogs, I wish they would just come out and say what they really mean – which feels like, what they really want to say, that he's uppity. That this man doesn't know his place."
"For folks like me, I think for a lot of people of color in this country, you hear that kind of double standard language against this president," Finney continued.
Professor Michael Eric Dyson agreed. "I think these are code words; wolf whistles, dog whistles," said Dyson. "If you can't accept Barack Obama in the presidency as an intelligent, articulate African American man going about trying to negotiate between competing claims and rival arguments about what is right and wrong, than you can't accept anybody."
Dyson continued, "there is a kind of resentment of the rightwing that this man has lost his moorings, because he doesn't know where he belongs which is underneath them, subordinate to their particular practices."
"To easily call him a thug and to call him a person who is a bully is also coded to try to make him look like 'the other' again," Dyson concluded.
"You're almost suggesting, Professor Dyson, that he – they're happy for him to have been involved in using his labor to build the White House, but for him to win an election and live in the White House, that's just not acceptable," said Bashir.
Dyson applauded Bashir's characterization, saying "You're a great speech writer and a great polemicist of the first order."
Watch the panel discussion below via MSNBC:
Have a tip we should know? tips@mediaite.com