Bassem Youssef, the 'Egyptian Jon Stewart,' Is Coming to America With a Brand New Show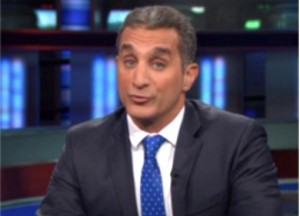 Bassem Youssef, the Egyptian TV satirist often likened to Jon Stewart, will host a new digital series and TV special, entitled The Democracy Handbook.
Variety reported that the new show will be produced by Fusion, and will "follow the host as he comes to America to learn the lessons of democracy so he can import them back to the Middle East — but learns stateside democracy isn't quite as great as he thought."
Youssef's show Al-Bernameg (or The Program) ran for three seasons. It was taken off the air temporarily in 2013 and again in 2014 shortly before that year's Egyptian election. Youssef finally pulled the plug permanently later that year, saying the harassment he received from authorities had become too much.
Youssef began building an audience in America after a series of appearances on Stewart's The Daily Show, where he became the show's official Middle East contributor.
"I am extremely honored to partner with Fusion, one of the biggest digital platforms in the world, on this interesting and inspiring project," Youssef said in a statement. "Discussing, exposing and satirizing the political scene here in the States is something I am very excited about and hopefully I will be able to get Fusion in trouble along the way! Between issues like guns, white supremacist militias and Donald Trump, I am certain we won't be lacking in any material."
[h/t Fusion]
[image via screengrab]
Have a tip we should know? tips@mediaite.com