Bay Buchanan On Reports Of Trouble In Romney Camp: Base 'Energized,' But You Can't Make Everyone Happy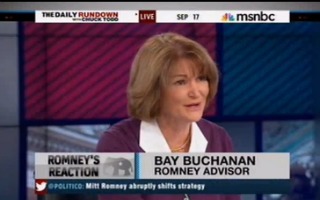 Romney campaign strategist Bay Buchanan stopped by the Daily Rundown set on Monday morning, where she and host Chuck Todd discussed the reported tension within Romney's campaign.
RELATED: Politico Piece Reveals Romney Campaign Trouble Swirling Around Top Strategist Stuart Stevens
"This story is just ridiculous," she told Todd, referring to a Politico piece published Sunday. "I have been, as you said, in many presidential campaigns, and the key to a good one — and Governor Romney is absolutely clear about this — he doesn't want 'yes people.'" She also described the recent Republican National Convention as an overall success, with Governor Romney's speech having been "well-received."
But who, Todd wondered, leaks an excerpt of a speech that hadn't been given? "What is going on there?" he asked.
Buchanan countered by asking, "Who writes that story? Who cares?" She followed this up by saying that Romney experienced a "bump" after the convention, and is faring well among Independent voters, voters in swing states, and female voters. Plus, she added, the base "is energized."
"What do you say to the conservative hand-wringers?" Todd asked her, name-checking the likes of Erick Erickson, Bill Kristol, and Jennifer Rubin.
Buchanan countered the many conservatives are thrilled with the ticket, particularly with the addition of VP pick Paul Ryan. That said, "it's easy to sit on the sidelines and have complaints," she said. "Every single campaign, everybody wants to be campaign manager, you know? They want to think that they're the best."
Later, when asked about Romney's foreign policy messaging, Buchanan insisted that Obama's foreign policy has failed, just as his economic policy has. Plus, she added, it's not as if Erick Erickson has been on their side this whole time and both Republicans and Democrats will have individuals within their respective parties that will "never be happy."
Have a look, via MSNBC:
Have a tip we should know? tips@mediaite.com