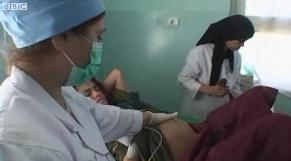 As ratings fall drastically for ABC and CBS' evening newscasts so far in 2010 (although have shown increases for NBC), one alternative nightly newscast is being honored at next month's Peabody Awards.
BBC World News America will be honored for overall excellence – a big boost for the cable program, and just one of the two awards being given for the newscast.
The description by the Peabody judges may be even more important than the actual award: "A nightly newscast like none the United States has ever had, it places our actions and concerns in a global context." It's high praise, and also a shot across the bow of the big three broadcasts and their apparent non-global approach to news (according to the judges).
BBC World News America, anchored by Matt Frei and Executive Produced by Rome Hartman (formerly of the CBS Evening News) does get the benefit of a few things the network broadcasts don't have. For one, they have the resources of BBC, certainly a global presence with few rivals in newsgathering and reporting. Also, the show airs for one hour each night, which provides an extra half hour for going more in-depth into stories – and the possibility of expanding the story choices to more global options.
The program also picks up a second Peabody win, for this report about maternal mortality in Afghanistan, from BBC correspondent Lyse Doucet. Hartman said in the release:
The BBC World News America team set out more than two years ago to do something unique and special: to create a program that really 'brings the world home' to Americans each night, and to do it in a way that's consistently smart, sophisticated, lively, and impartial. We still have a long way to go, but this is a profound validation of that idea and mission.
CBS' 60 Minutes also picked up two awards, and Diane Sawyer and ABC News won one. The ceremony is May 17.
Have a tip we should know? tips@mediaite.com