BBC Explains Why It's Not Covering Libya…From Libya: "An Uncomfortable Place For Us To Be"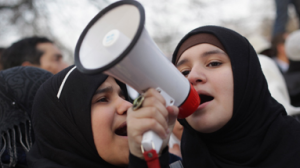 In the wake of Egypt's uprising, covering moment-by-moment by international reporters positioned in Tahrir Square, the protests in Libya–and the government's bloody efforts to squash them–have been reported furtively, by phone, YouTube and tweet. The BBC, having heard the criticism of Western news networks for failing to provide better coverage, explained its position on Libya in a letter to viewers posted to the BBC website Sunday night. "Reporting from Libya is tricky at the best of times – clearly, the situation there right now is anything but," writes Jon Williams, BBC World News editor.

Williams argues that one of the hallmarks of the rule of Muammar Gaddafi has been an intolerance of foreign journalists:
There, the door is firmly shut to international journalists, local reporters face intimidation and the threat of worse. It explains why, in contrast to recent events in Tunisia, Egypt and Bahrain, we're unable to report from inside Libya on the protests taking place there, and the authorities violent response.

And that's an uncomfortable place for us to be.
The efforts by the Gaddafi regime to impose a media blackout has not been entirely successful, with citizens using social media to get the word out of protesters being shot dead by government troops and widespread reports of brutal violence leaving people dead by the hundreds. These first-hand reports providing critical information–but putting agencies like the BBC in a difficult position of depending on unknown individuals instead of trusted, experienced journalists:
The BBC and other news organisations are relying on those on the ground to tell us what's happening. Their phone accounts – often accompanied by the sound or gunfire and mortars – are vivid. However, inevitably, it means we cannot independently verify the accounts coming out of Libya. That's why we don't present such accounts as "fact" – they are "claims" or "allegations".
The BBC says it's doing its best, but concedes a flood of "user generated content" can quickly dry up when access to the internet is cut off.
Have a tip we should know? tips@mediaite.com