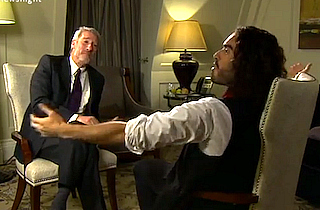 Comedian, prankster, and recent guest-editor of the New Statesman Russell Brand appeared on BBC's Newsnight on Wednesday, where he defended his call for revolutionary politics—despite having never voted—to a very skeptical Jeremy Paxman.
"I don't get my authority from this preexisting paradigm which is quite narrow and only serves a few people," Russell said. "I look elsewhere for alternatives that might be of service to humanity."
"How do you imagine people get power?" Paxman asked. "They get power by being voted in. You can't even be asked to vote…In a democracy, that's how it works."
"Well, I don't think it's working very well, given that the planet is being destroyed, given that there is economic disparity of a huge degree," Brand responded, going on to call voting "tacit complicity."
When Brand encouraged Paxman to grow his beard longer, perhaps in resistance to the paradigm, the host replied, "You are a very trivial man."
RELATED: Russell Brand Hijacks Morning Joe, Skewers Brzezinski & Guests: 'Is This What You All Do For A Living?'
Paxman finally got Brand to describe with some specificity what his revolutionary state would look like. "A socialist egalitarian system based on the massive redistribution of wealth, heavy taxation of corporations, and massive responsibility for energy companies and any companies exploiting the environment," Brand explained. "[British Prime Minister] David Cameron says profit isn't a dirty word; I say profit is a filthy word, because wherever there is profit, there is deficit."
Paxman stymied the actor when he pointed out that Brand's redistribution and responsibility would have to be overseen by some sort of government-like apparatus, chosen by some sort of voting-like system. "Don't ask me to sit here with you in a bloody hotel room and devise a global utopian system," Brand said.
Watch the full clip, via BBC:
[h/t Gawker]
[Image via screengrab]
——
>> Follow Evan McMurry (@evanmcmurry) on Twitter
Have a tip we should know? tips@mediaite.com