Be My Guest: The Chris Hayes Quota System Ridiculously Rewards Color Over Content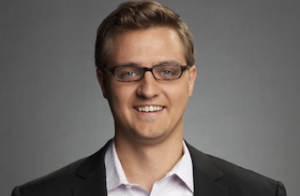 The Caller ID on my iPhone had that word most calls from television outlets display:
"Unknown."
Me: "Hello, this is Joe Concha…"
Caller: "Hello, Mr. Concha. My name is Ed Harkin. I'm a producer for All in with Chris Hayes on MSNBC."
Me: "Hey Ed…what can I do for you?"
Harkin: "Well, we're talking about the Rush Limbaugh-Bill O'Reilly feud and wanted to get your input on it with Chris tonight."
Me: "Sounds great. What time do…"
Harkin (muffled, as if his hand is over the phone): "One second, Joe (he's now speaking to someone else in the room). We're at what? Right, but…OK. OK. I'll let him know. (Back on phone) Hey Joe. Sorry about this. Looks like we'll be going in another direction on the segment, but we'd like to have you on another time."
Me: "No problem, Ed. Appreciate you thinking of me and we'll aim for another time."
Harkin: "Great. Talk soon. Bye."
I really don't give the call much thought upon hanging up the phone. Bookers/producers tend to double book, basically hedging their bets in case guest choice A or B aren't available. I've been booked and bumped before…it's all part of the game.
Back at MSNBC, Harkin is talking with host Chris Hayes, who turned out to be the individual who informed him to not book me.
Hayes: "Didn't you look at the quota chart before calling him?"
Harkin: "Of course I did. Our show revolves that chart, not exceeding a set number of white men per week. Just like you told the Columbia Law Review, we will not exceed the Caucasian quota. Ever. But Concha is obviously a minority. Sounds Puerto Rican, maybe Mexican. I stayed at the La Concha Hotel in San Juan once. There's a whole Conch Republic in Key West. It either means shell in Spanish, like Piggy in Lord of the Flies said. Remember? (British accent): 'But I've got the Conch!' It's also slang for a female body part in South America."
Hayes: "Have you seen Concha? He looks pretty white to me."
Harkin: "I thought he could help fill our Latin America quota. We're a little low this week."
Hayes: "Pretty sure he's pure white. Oh well, get Cory Booker in here instead."
Harkin: "What does he know about media wars?"
Hayes: "He's an African-American, isn't he? Just do it. And don't forget to bump Tim Tebow to the first week of May…we should have some openings for him by then."
Harkin: "But Tebow is ratings gold…"
Hayes: "Respecting the quota is more important, Ed. Always remember that."
A fictional scenario? Of course. Lest anyone believe that phone call and subsequent conversation ever happened. But the point is that Hayes would have difficulty knowing what quota I would help fill in the tracking mechanism he uses (that we'll talk about in a moment). In the meantime, for future booking reference…my ancestors are primarily from Northern Spain on my father's side (Concha) and Ireland on my mother's side (Gallagher).
In short, the conversation above is based on many potential true stories to come. After all, Hayes did proclaim to the Columbia Journalism Review that he's proud of the following chart that illustrates just how diverse his guest list is (below). You can read all about it here.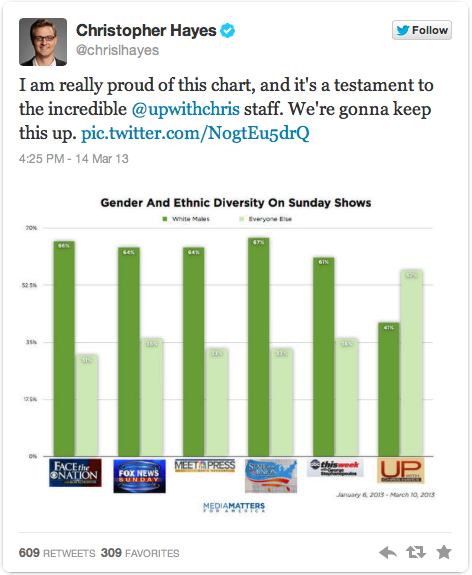 In the interview, he also expanded on how his former show "Up With Chris Hayes" determined its guest list:
"We just would look at the board and say, 'We already have too many white men. We can't have more.' Really, that was it," Hayes says. "Always, constantly just counting. Monitoring the diversity of the guests along gender lines, and along race and ethnicity lines…A general rule is if there are four people sitting at table, only two of them can be white men. Often it would be less than that."
Of course, Hayes doesn't seem to mind that MSNBC's 7:00-11:00 PM programming consists of the three white men and one white woman. Included in the lineup are Chris Matthews (67 years old) and Lawrence O'Donnell (61). Al Sharpton does host a show on the primetime fringe of 6:00 PM, but hardly (if ever) has been asked to fill in for Ed Schultz (whom Hayes replaced), Matthews, Rachel Maddow or Lawrence O'Donnell in primetime.
The only other important show on any cable network (from an ad revenue/ratings perspective) exists on weekday mornings. At last check, MSNBC's Morning Joe cast of Mika Brzezinski, Joe Scarborough, Willie Geist, Chuck Todd and Mike Barnicle are quite pasty.
Hayes didn't bother broaching that touchy subject to the Columbia Journalism Review. Nor does he tackle the makeup of the administration he reveres on a daily basis.
Especially lately, Team Obama actually looks a lot like, well, MSNBC, CNN, HLN or FOX. Recent appointments to State, Treasury, White House Chief of Staff, Defense, and CIA Director were all white men, who obviously will have some issues getting booked on Hayes' new 8:00 PM show if certain quotas have already been filled on a particular week.
A couple of tips for Hayes as he prepares to take on Bill O'Reilly, a key matchup for Phil Griffin if he expects to fulfill his prediction to overtake FOX by the end of the year:
Good guests are hard to find. It doesn't matter what color or gender they are…you either nail it or you don't. A quality guest can almost always make or break a segment, even an entire program. It could be the most intellectual, compelling, progressive-pleasing, unique topic on cable that night. But if you don't have the right players on the field to execute, it will fall flat. And if you think folks are really tuning in because of what somebody looks like and not because of what they're saying, we're going completely backwards as a society.
Guests are also more important than some producers give credit for. The aforementioned O'Reilly and his producers understand this by rotating in the same guests on the same days of the week, even in the same block in the show. The diverse (in all aspects) lineup of Charles Krauthammer, Alan Colmes, Monica Crowley, Bob Beckel, Bernie Goldberg, Dennis Miller, Juan Williams, Megyn Kelly, Marc Lamont Hill, Kirsten Powers, etc. are almost guaranteed to appear the same time and day every week.
Why? Because they all know how to deliver and therefore get asked back. They give the show continuity, a consistent flow, a rhythm. And they actually challenge the host and/or each other…something not seen very often on MSNBC. The ratings—which include O'Reilly more than quadrupling MSNBC at 8:00 PM every day last week—prove that.
Hayes says the quota system helped contribute to his previous show's success…a program seen 8:00 AM-10:00 AM on weekend mornings.
Welcome to primetime, Mr. Hayes.
8:00 PM – a crucial timeslot on any network.
The stakes are infinitely higher here.
One big way to be competitive?
For starters, not judging guests by the color of their skin, but by the quality of their content.
Follow Joe Concha on Twitter @ConchSports
Have a tip we should know? tips@mediaite.com