Because, Why Not? Watch Mark Sanford Debate Life-Size Poster Of Nancy Pelosi In South Carolina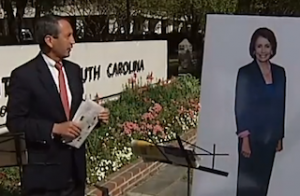 Republican congressional candidate Mark Sanford could not get his opponent, Democrat Elizabeth Colbert-Busch to meet him for a debate today at the Medical University of South Carolina, so he decided to spar with the next best thing: a life-size cardboard poster of House Minority Leader Nancy Pelosi.
Sanford had requested four debates with Colbert-Busch before the special election for South Carolina's 1st congressional district is held on May 7th, but she only agreed to one. "My opponent continues to run a stealth campaign, avoiding public appearances and refusing to commit to televised forums for the benefit of 1st district voters," Sanford announced in a press release. "Since Elizabeth Colbert Busch refuses to articulate her views publicly, we are left to draw inferences for what she stands for on the basis of the groups that have made substantial monetary investments on her behalf."
Sanford peppered "Pelosi" with questions about the National Labor Relations Board and other issues pertaining to the South Carolina campaign, even chiding the poster at one point for its silence. "She's not going to answer that one," he said. When "Pelosi" would not answer another question about stimulus spending, Sanford answered for her, saying, "I think what Nancy would say is that she stands for stimulus in a way that's very different from the way I stood for a long while on the whole notion of bringing our financial house in order."
The former South Carolina governor did not clarify why he chose to "debate" the likeness of Pelosi specifically. Perhaps his campaign wasn't able to obtain a high-resolution, full body photo of his actual opponent Colbert-Busch? And of course, he always could have gone the Clint Eastwood route and stood next to an empty chair. Comedian Jesse Berney proposed a similar solution on Twitter.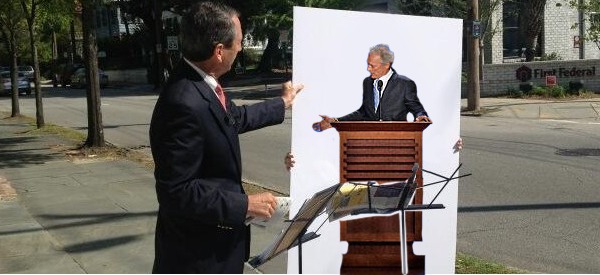 The Colbert-Busch campaign issued its own response to Sanford's stunt, saying, "While Mark Sanford continues his desperate campaign to deceive voters, Elizabeth Colbert Busch is spending her time with real people who support her campaign. Today alone, she's meeting with a group of Republicans for Elizabeth Colbert Busch and a rally at Burke High School. She doesn't have to resort to phony cardboard cutouts to talk with the people of South Carolina."
We can only hope that Colbert-Busch's brother, Stephen Colbert will be debating a cardboard cut-out of Sanford on his show tonight.
Watch video below, via CBS News:
—
>> Follow Matt Wilstein (@TheMattWilstein) on Twitter
Have a tip we should know? tips@mediaite.com