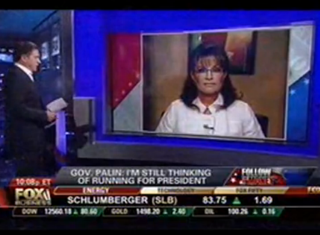 A funny thing about the way our current infotainment cable news culture is constructed is that the threads of every character in the narrative are interwoven in such a way that they must all necessarily intersect. Meaning: it was inevitable that, despite having nothing to do with each other, Sarah Palin would have to comment on Arnold Schwarzenegger's surprise lovechild.
Palin returned to the airwaves today on both Fox News and Fox Business after quite the busy week for the Republican 2012 presidential field, and after once again asserting that she wasn't going to make a decision on running for president anytime soon on Hannity returned an hour later to the airwaves to talk health care with Follow the Money's Eric Bolling (Palin, not shockingly, was more than a little dismayed at House Minority Leader Nancy Pelosi). Bolling and Palin didn't exclusively talk shop, however, and, before a goodbye where Palin thanked Bolling for his commentary on energy policy, the latter asked a curious if not out-of-left-field question: any comments on Schwarzenegger?
It's a particularly interesting question because it seems impossible that anyone would publicly fall on Schwarzenegger's side of the conflict given the public information, and because somehow, despite there being no palpable reason for anyone to want to know other than the second nature of following celebrity, it seems impossible that someone wouldn't have asked Palin about it at some point within the week. The news cycle is a melting pot and every celebrity assimilates. That's why Barack Obama name-drops Justin Bieber, Fabio can weigh in on Michelle Obama's health initiatives, and Palin reprimands Schwarzenegger for his personal shortcomings.
Anyway, Palin gave a fair reaction, lamenting that the children are put into the spotlight, but calling his acts "irresponsible and pretty disgusting" as well as an indication of true character. Her blurb on that via Fox Business below:
Have a tip we should know? tips@mediaite.com