Beck Disregards Small Sample Size, Takes Basketball Shots To Prove He's 'Three Times As Good As President'
In response to President Obama's 2-for-22 basketball shot performance at last week's White House Easter Egg Roll, Glenn Beck and his merry band of radio co-hosts decided to settle the debate no one outside their studios was really having:
Is Beck "better" than Obama at basketball?

Obama's much-mocked shot performance was so "embarrassing" that even some children in attendance were trash-talking. "He couldn't make one," one 10-year-old told the press. "I had to help him out."
Naturally, there's a GIF image of the president's most awkward lay-up fail: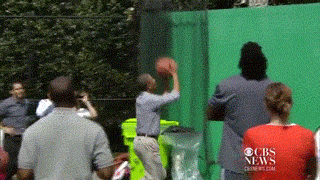 And so, on his radio show this morning, TheBlaze crew discarded any notion of "small sample size" and decided to pit Beck shot-for-shot against Obama to see if the president's ball skills can hold a torch to a conservative radio host wearing a funky workout suit.
As Beck took his required 22 shots — hands awkwardly gripping the ball 45-degrees apart, as opposed to perpendicularly — the crew made repeated mockery of the president's recent athletic display, while breaking out into laughter when the host managed to make some tricky shots interspersed with some pathetic air-balls.
All in all, Beck went 6-for-22. That's "three times as good as the president," co-host Stu Burguiere noted.
Of course, this was not just some goofball segment in which Beck got to don a track suit and shoot the J with his friends. No, this had a political angle. After returning to his White House-themed radio desk, Beck donned his serious hat and concluded: "The guy [President Obama] just can't admit that he sucks at anything. […] He just cannot admit that he's not the world's greatest at everything."
Watch below, via TheBlaze:
— —
>> Follow Andrew Kirell (@AndrewKirell) on Twitter
Have a tip we should know? tips@mediaite.com