Beck Fires Back At Erin Burnett's 'Smears' With Mock Sympathy: 'I Know What It's Like To Be On Verge Of Being Fired'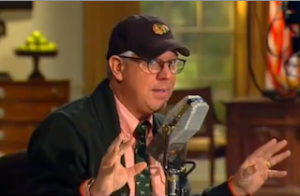 It was only a matter of time. After CNN's Erin Burnett spent just under three minutes Monday night slamming Glenn Beck for his "ugly history" of comparing President Obama to Satan, Beck responded this morning with a thirteen-minute dissertation on everything he felt was wrong with Burnett's report, CNN and mainstream media's tendency to take quotes out of context.
Beck found Burnett's actions to be even more egregious than the time MSNBC's Andrea Mitchell edited Mitt Romney's comments about ordering food from WaWa, and not just because this time it was about him. He called what Burnett and CNN did with his words "Goebbels stuff — propaganda as an art form in the name of news."
From there, Beck attempted to systematically discredit each of the quotes Burnett used to demonstrate her point about his history of Obama-Satan analogies, aiming to show that in each instance he was actually describing how "others" view the president, not necessarily how he views Obama himself. To her credit, Burnett did subtly acknowledge this distinction after playing her montage by saying, "'There are people' …hm," perhaps suggesting that Beck may put those words in others' mouths, but he doesn't exactly refute them.
Beck's tone turned slightly more sober and sincere when he paused to absolve Burnett of credit for promoting the propaganda against him, despite the fact that the segment was labeled as "Erin's Essay," implying that it was, in fact, her opinion. "Erin, I know what it's like to be on the verge of being fired," he said. "I know what it's like to have horrible ratings." He then clarified saying that even when he was on Fox News, "I think your best ratings were my worst ratings."
Beck closed the segment by speaking directly to the bosses at CNN and saying "I don't need an apology from them, though maybe we let the courts decide." Instead, Beck demanded answers on how far CNN will go when it comes to taking subjects' words out of context. Calling himself "irrelevant," for a moment, Beck asked, "what's going to make you stop editing other people's tapes?"
Watch video below, via The Blaze:
—
>> Follow Matt Wilstein (@TheMattWilstein) on Twitter
Have a tip we should know? tips@mediaite.com