Beck: "I Can't Tell The Difference Between Extreme Leftists And Radical Islamists"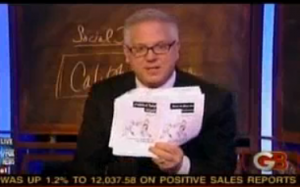 Glenn Beck spent most of today's show sounding alarm bells about the Muslim Brotherhood and how dangerous it would be for them to gain power in a post-Mubarak Egypt. Most controversially though, Beck played a clip from Rosie O'Donnell and read a pamphlet being distributed around the Middle East called "How to Protest Intelligently" and was startled by the similarities he noticed.
Beck continued:
"Honestly, I can't tell the difference between extreme leftists and radical Islamists. I don't. Except I haven't seen anybody on the left take an airplane and blow up buildings. But they're both going for a New World Order and they're both doing it through riots."
Beck's usual attempts to provide at least some humor in his show were nowhere to be found today as he himself admitted his shows lately have been bleak. However, he thought he would leave viewers with at least some hope and suggested they pray. Given that he couldn't imagine what it would be like to live in Israel where soon they will be surrounded by people who "are being encouraged to embrace their rage and their hate," Beck feared, "if these countries begin to fall I don't know how to save Israel. I don't know if you can save Israel."
Beck suggested later in the week he might have more answers, but for now, prayer for our families and prayer for Israel was all he could recommend. These are certainly serious times, but whether Beck's extremely solemn tone and depressing predictions throughout is what audiences want to hear is another question.
Watch the clip from Fox News below:

Have a tip we should know? tips@mediaite.com