Beck Shares 3rd Boston Suspect Theory With O'Reilly, Claims White House 'Hiding The Saudi Connections'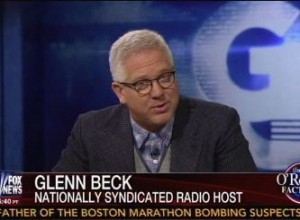 For the past week or so, Glenn Beck has been touting a theory that the Saudi national initially brought in for questioning in the investigations over the Boston Marathon bombing may be more connected to the terror attack than we thought. Beck sat down with Bill O'Reilly tonight to share his theory, accusing the Obama administration of engaging in a cover-up and destroying documents related to the Saudi national.
RELATED: Glenn Beck: Was Saudi National Detained By Boston Police Involved In Boston Bombing?
Glenn Beck detailed how federal officials investigated and interrogated the Saudi student before letting him go, claiming that he has multiple sources inside the Obama administration providing him with a document describing the individual as "armed and dangerous." He claimed that the Saudi student was dropped as a person of interest after President Obama and Secretary of State John Kerry met with the Saudis.
Beck said the White House is now trying to cover up and get rid of his files, telling O'Reilly there needs to be more press attention for this. O'Reilly did not question Beck's assertions, allowing him to go on mostly uninterrupted. Beck insisted, "They're hiding the Saudi connections."
When O'Reilly referred to the Saudi national as a college student who transferred to Boston, Beck jumped in to say there's no record of that, and said people need to stop talking Janet Napolitano at her word. He likened this to calling up the Nixon White House to confirm they had nothing to do with the Watergate break-in.
Watch the video below, courtesy of Fox News:
—–
Follow Josh Feldman on Twitter: @feldmaniac
Have a tip we should know? tips@mediaite.com
Josh Feldman - Senior Editor