Beck Wants To Keep U.S. From Going Off Cliff Like 'Choo-Choo Train' In Back To The Future III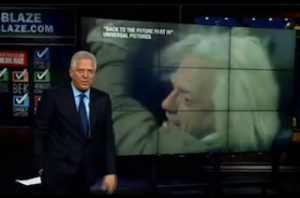 Glenn Beck's mission in life has changed. Last night on his show, the host told his audience that it is no longer his job to "warn" them about the future of America, but instead to point out the "exits" or "mile markers." Time is running out, Beck said, and the best way for him to illustrate this point was to use an elaborate analogy from the third and final Back To The Future movie.
"I know this sounds ridiculous," Beck began before showing the climactic ending to Back To The Future III, in which Marty McFly uses a wood-burning train to propel his DeLorean time machine up to 88 miles per hour and send him back to the future from the Old West before the whole thing goes over a cliff. Of course, Beck and other close-watchers of the film remember that Doc Brown has set up markers along the way where they must throw additional logs on the fire to keep the speed of the train high enough.
Turning to a triple-wide blackboard with a train track diagram drawn on it, Beck said it's his job to point out those markers before the "choo-choo train" that is America "goes over the edge." He wants to show Americans "what exits we can take" in order to "preserve as much as we can" and "hold together."
Among the "mile markers" on Beck's chalkboard were "Al Qaeda attacks," "Universal Health Care," "$17 trillion" in debt, and his friend Rep. Louie Gohmert's recent obsession, the "Muslim Brotherhood Infiltration" of the government.
Before America goes off the edge, Beck plans to warn his viewers about the government's plot to take away their guns, and then their right to free speech. He may not be able to stop the proverbial train from falling off the cliff, but he can tell people when to get off.
Watch video below, via TheBlaze TV:
—
>> Follow Matt Wilstein (@TheMattWilstein) on Twitter
Have a tip we should know? [email protected]