Bob Beckel And Greg Gutfeld Address Pulling Punches With Palin Joke On The Five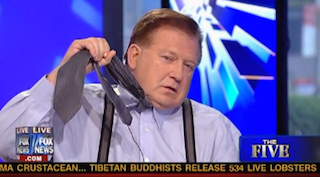 As we guessed yesterday, the clip of Bob Beckel and Greg Gutfeld talking about Sarah Palin on The Five has gotten quite a bit of attention, being picked up in a number of media outlets. In the video, Gutfeld jokes that it's awkward to say anything bad about Palin because she is his "co-worker" and he tends to just say she did a "nice job." Beckel then admitted that he "pulls punches" when discussing her. The two have since spoken out about it to the Associated Press, saying they were clearly joking. (UPDATE: They also discussed it on today's episode. Clip added below)
"'I was playing off what Greg was saying,' Beckel said in an interview Thursday, noting that it's a mandate of producers to try to be funny on 'The Five.' 'People are so sensitive.'

Beckel said that nobody at Fox had ever asked him to go easy on anyone, adding, 'I'd punch them out if they did.'

…

'It was clearly a joke' that should be apparent to anyone who watches 'Red Eye,' he said.

'I don't pull punches,' he said. 'I've been fired from some jobs for not pulling punches.' Asked for details, he said, "Check my Wikipedia page." Gutfeld has lost editing jobs at Men's Health, Stuff and Maxim UK."
And, like we alluded to in the initial post, the comments did come off as mere irreverence from a show that has become known, in its short history, for a relaxed, jokey atmosphere. That being said, the problem will be how it looks to critics. The clip could have had its own laugh track and it wouldn't matter. From here on out, any detractor of Fox News or Palin will have the footage to seemingly back up their arguments.
It may be unfair but, to the uninitiated, the clip seems to speak for itself. For so many people, that will be all that matters.
Given the media hubbub this has caused, we won't be surprised if the situation is addressed on today's Five. If so, we will add the clip in this space.
UPDATE: Sure enough, the topic was broached on today's episode, much to Beckel's hilarious annoyance. Gutfeld pointed out that he could never actually "run into Sarah Palin in the hallway" since she's in Alaska and Beckel read a list of some of the many full-punched insults he's said about her. The entire panel agreed that anyone who took the comments seriously needed to get a life and a sense of humor.
Below is the clip from Fox News:
Thank you for not calling us a "left-wing rag," guys!
Have a tip we should know? tips@mediaite.com