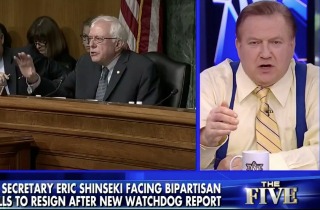 If there was ever an issue Congress should be angry about, it's the horrible treatment veterans are getting from the department of government that's supposed to take care of them. But while part of the anger appears to be sincere, another part of it appears to be a contest for members of Congress to brag about how much more outraged they are than everyone else about this (even, in some cases, literally going after veterans groups for not being as outraged as them). And on The Five today, Bob Beckel called out the "pompous jerks" in Congress choosing to yell and grandstand about the ongoing VA scandal instead of trying to do something substantive about it.
Eric Bolling argued Secretary Eric Shinseki needs to go because firstly, someone should be held accountable, and secondly, it serves to "shake up the whole tree" and warn Shinseki's employees that they might not be safe either. Andrea Tantaros, however, argued that getting rid of Shinseki wouldn't solve anything, and beyond that firing him would take pressure off the White House.
Tantaros also brought up politicians who love to act like they're doing something, which set Beckel off. He said, "What I'm tired of are these pompous jerks in Congress who sit there and yell at these people… Your job is oversight of the veterans administration, you jerk!"
He continued, "Every one of you members of Congress who's shooting your mouths off like that who haven't investigated this are just as guilty as anybody responsible for it!"
So members of Congress sometimes grandstand on scandal and point fingers at everyone else so no one figures out they might be culpable too? Shocking. Shocking, I say.
Watch the video below, via Fox News:
[image via screengrab]
— —
Follow Josh Feldman on Twitter: @feldmaniac
Have a tip we should know? tips@mediaite.com
Josh Feldman - Senior Editor