Beck's Airport Suicide Theory: May Have Been Anti-Gun 'Setup' Akin To Nazis Burning The Reichstag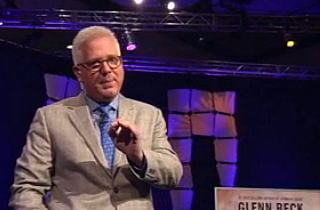 Broadcasting live from Houston last night — the site of this weekend's annual NRA convention — Glenn Beck offered up his take on Thursday afternoon's Houston airport suicide: The media should dig deeper, he said, because this could very well be a "setup" akin to the burning of the Reichstag in the lead-up to Nazi Germany.
On Thursday afternoon, an unidentified man reportedly fired a shot from his AR-15 into the ceiling near the ticket counter of Bush International Airport's Terminal B. When air marshals arrived to confront the suspect, he reportedly pulled out a pistol and shot himself in the head, dying later at a local hospital.
An hour after the incident, Beck told his live audience the story of what had just happened. He cautioned that the "simpletons in the media" might report "this is what Beck said," and so he made clear that he will first relay the news story and then give his personal opinion on the matter.
After describing the news event, Beck added: "That doesn't make sense to me."
"I have been looking and fearing moments like this," he warned. "If it's not this one, it will happen in the coming days."
Beck then indicated that law enforcement sources have told TheBlaze that the unidentified man was an out-of-towner staying at an area hotel, and that his intent was to "take out as many people as possible" in that airport using an AR-15.
"First of all, the idea that this is a coincidence, that this is happening at the airport with the NRA is too much to believe," he suggested, before imploring "honest journalists" to do their due diligence and "look for these connections," namely:
"Look for any connections of who this man is and any connections he might have to the uber-left. I believe that, and only because I have been looking for this, I believe this man could fall into the category of somebody who has lost his job, is depressed, etc., etc.
Seemingly without any evidence, Beck then imagines a "likely" plot line for what he believes was a depressed man with possible "uber-left" ties committing suicide at the Houston airport:
"Somebody comes in, off to the side, winds him up, says, 'Oh, you should make a statement.' I believe that's probably — I shouldn't say that — I believe there's a very good chance that that's what happened. He then gets to the airport, he then realizes — it's pretty clarifying I imagine when you kill people — he realizes that's not who I am. He shoots in the air, drops the AR, the air marshals come, he realizes there's no way out, he shoots himself."
He continued on to suggest the suicide could be a setup like one particular historical event from Nazi Germany:
"If I were an honest journalist I would find out where these guns came from; were they purchased or were they illegal. Oh, if they're illegal, I could guarantee you this is a setup. Someone knows history. I do. At least I know enough history to know about the burning of the Reichstag."
Upon the burning of the Reichstag, Adolf Hitler pointed the finger at a communist conspiracy and successfully consolidated German support for his rising party. To this day, however, many dispute the official story and believe the Nazis may have framed the Dutch communist Marinus van der Lubbe as a means to achieving power. It would seem as though Beck is suggesting the airport suicide could… potentially… be a set-up by the "uber-left" in what he likely perceives as their quest to restrict gun rights.
Watch the segment below, via TheBlaze TV:
[h/t RWW]
— —
>> Follow Andrew Kirell (@AndrewKirell) on Twitter
Have a tip we should know? tips@mediaite.com