Before He Was 'Dirty Harry,' Now He's A 'Big, Fat Wimp?' Thomas Roberts Blasts Zimmerman's MMA Defense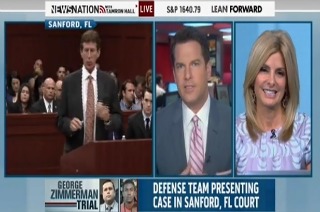 A defense attorney for George Zimmerman argued on Monday that the defendant was not an accomplished Mixed Martial Arts practitioner, though he had taken several lessons in the combat style. Zimmerman's attorney had the defendant's MMA instructor demonstrate some techniques in court in order to show what type of instruction he took. In reaction, MSNBC anchor Thomas Roberts asked how Zimmerman was previously portrayed as the neighborhood's "Dirty Harry," but now "he's a big, fat wimp?"

Zimmerman's MMA instructor, Adam Pollock, took the stand on Monday to testify as to how much – or how little, according to the defense – Zimmerman knew about MMA tactics.
Roberts became visibly frustrated with Zimmerman's attorney's strategy of attempting to show that Zimmerman is no longer, and may never have been, a threatening or imposing individual.
"Before he was a shaved-head, goatee-wearing, concealed gun-wearing, Dirty Harry of his Sanford neighborhood," Roberts observed. "Now he's a big, fat wimp apparently?"
RELATED: Sharpton: If Zimmerman Was In An 'MMA Attack' With Martin, 'Why Didn't He Use His MMA Training?'
After pausing for more testimony from the Pollock in which the fitness trainer testified that Zimmerman's MMA prowess merited a 0.5 on a scale of 1 – 10, Roberts appeared further agitated.
He shook his head while demonstrating the defense's point that Zimmerman was never a threat to Trayvon Martin even when he weighed significantly less than he does now.
"If you have a gym membership with Adam Pollock, go ask for a refund," Roberts asserted.
NBC legal analyst Lisa Bloom countered that training in martial arts styles is both taxing and difficult to learn. Roberts did not appear amenable to that argument. "After a year, do you know anything?" He asked pointed.
"He wasn't there for a couple of months," Bloom replied. "That's the testimony."
Watch the clips below via MSNBC:
> >Follow Noah Rothman (@NoahCRothman) on Twitter
Have a tip we should know? tips@mediaite.com