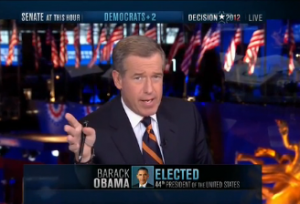 "If you tell the truth, you don't have to remember anything." – Mark Twain.
By now you've undoubtedly heard about tremendous trouble for the truth-challenged Brian Williams, anchor of NBC Nightly News and arguably the face of the network itself. He's now under fire (pun intended) for repeatedly telling a story about being in a helicopter that was under attack while covering the Iraq War in 2003.
He apologized on the air last night, but even the apology is being questioned now. Here's what was said on Wednesday's Nightly News:
"I want to apologize. I said I was traveling in an aircraft that was hit by RPG fire. I was instead in a following aircraft."
Except crew members on the helicopter that actually was struck are now saying Williams wasn't even close to it…as in, one hour of flight time behind the three helicopter that were hit.
This is usually the part of the column where the media critic writes: "It's hard to see how (insert name here) survives this." Note: The original lie is bad enough, but perhaps worthy of only a lengthy mandated vacation in hopes it eventually blows over. However, the lie in the apology–seen by millions either live or online–should serve as the final whistle in the game that is the broadcast career of Brian Williams. But there's one problem: Williams happens to be anchor of the #1 nightly news program in the country and has been for years. With #1 comes big profits for the Peacock. And at last check, there's no hyped heir apparent waiting in the wings to slide into Williams' chair (Ronan won't be ready for a few more months…).
There have been some comparisons between Williams and Dan Rather and his downfall at CBS after a 2004 report he did for 60 Minutes on then-President Bush's National Guard service just days before the general election. As you know, that report was quickly debunked after documents which supposedly proved Rather's assertion that Mr. Bush lied about his Guard service were proven to be fabricated.
Rather — who doesn't have a massive ego or anything — still insists to this day that while the memos were "fake, but accurate" — he was wrongly tossed aside by CBS. Know this: Rather may have survived the incident if: a) He apologized for getting it wrong without excuses; and b) He wasn't 72 at the time and the highest-paid member of CBS News. Simply put, CBS was looking for an excuse to get rid of Rather, who was slumping badly in the ratings and was a distant third to Jennings and Brokaw on ABC and NBC, respectively. The botched report was all the network needed to get out of the contract and move in another direction.
In the case of Williams, he's still a relatively young 55 (and looks even younger than that), and is at the top of both his game and the ratings heap. So you can bet NBC News President Deborah Turness would have already placed him on permanent leave if the NBC Nightly News was the bronze medal winner instead of gold against David Muir (ABC) and Scott Pelley (CBS). But now she's got a decision to make: Do the right thing, swallow hard and make tomorrow night's broadcast Williams' last on the network…or go the suspension route. There are no other options. But the problem with Door #2 is that this lie will follow Williams forever even after he returns. His reputation is permanently stained. No other network anchor survives this, but perhaps Williams does only because of what he brings from a revenue perspective.
And it's not like he's Sen. Richard Blumenthal (D-CT), who lied about serving in Vietnam but still got elected: Politicians are almost expected to lie nowadays. But those who are sitting in sacred network news anchor chairs — the ones once populated by the likes of Brokaw, Chancellor, Brinkley and Huntley — don't get a free pass. Credibility is everything.
Brian Williams is under fire for a tale about being under fire. He got caught and apologized. But now even his attempt at atonement is baked in BS. It should be game, set, match for his career in broadcasting on any major level.
Except there's those little things called profit and money that may save Williams after all. Just depends on what the network president values more:
Integrity or profit?
We're about to find out.
— —
>> Follow Joe Concha on Twitter @JoeConchaTV
Have a tip we should know? tips@mediaite.com