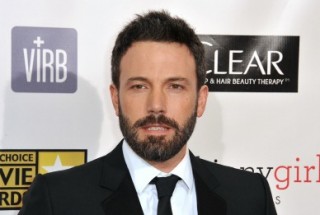 While participating in the 2014 PBS genealogy series Finding Your Roots, Ben Affleck learned that he had an ancestor who owned slaves. Hacked Sony emails, posted publicly by WikiLeaks this week, show that the famed actor openly attempted to prevent the information from making it into the show's final cut.
Gawker pointed out on Saturday morning that a July 2014 email chain between PBS host Prof. Henry Louis Gates, Jr. and Sony Entertainment CEO Michael Lynton show the pair cryptically conversing over the peculiar production request from a big name like Affleck.
Let's go to the email chain. First Gates mentions a suppression request from a certain "megastar" (emphasis added):

Lynton responds that the situation is "tricky," but that he suggests removing the fact if "no one else knows" and the show can get away with it (emphasis added again):

The pair then went back and forth about whether it's worth compromising for "Batman," and how it could hurt the brand to not give in to his request: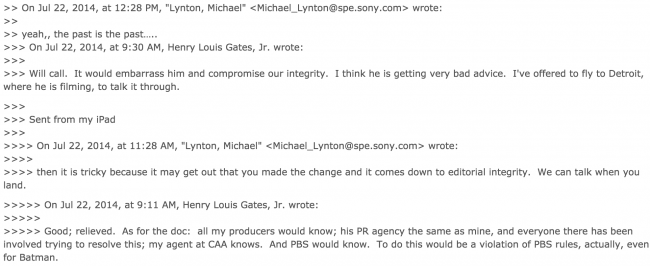 Affleck's episode aired on October 14, 2014, and did not include anything about a slave-owning ancestor.
Professor Gates released a statement through PBS on Friday, saying the ancestor was ultimately left on the cutting room floor so the show could focus on "the most interesting aspects of his ancestry," including an occult enthusiast, a Revolutionary War participant, and a 1964 civil rights marcher:
We are very grateful to all of our guests for allowing us into their personal lives and have told hundreds of stories in this series including many about slave ancestors—never shying away from chapters of a family's past that might be unpleasant. Ultimately, I maintain editorial control on all of my projects and, with my producers, decide what will make for the most compelling program.
PBS also released a statement, giving their stamp of approval to Gates' production decisions:
It is clear from the exchange how seriously Professor Gates takes editorial integrity. He has told us that after reviewing approximately ten hours of footage for the episode, he and his producers made an independent editorial judgment to choose the most compelling narrative. The range and depth of the stories on Finding Your Roots speak for themselves.
Read the full email chain here.
[Image via Shutterstock.com]
— —
Have a tip we should know? tips@mediaite.com