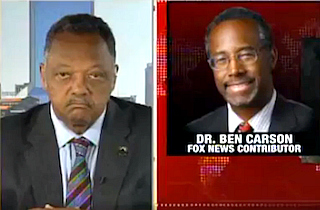 Neurosurgeon and rising GOP star Ben Carson phoned in to Fox News Sunday (due to technical difficulties) this morning and debated Reverend Jesse Jackson over whether race was the predominant factor in the shooting death of Michael Brown and subsequent unrest in Ferguson, MO.
Jackson had called Brown's death a "state execution" and linked it to a pattern of law enforcement violence against African Americans, violence that almost always goes unpunished. Carson responded that the incarceration and violence in black communities was largely a matter of personal responsibility, not racial disparities.
"If you take race out of the issue altogether and you take a group of young men and you raise them with no respect for authority, not learning to take on personal responsibility, having easy access to drugs and alcohol, they're very likely to end up as victims of violence and incarceration," Carson said. "Has nothing to do with race."
"It does have a race dimension," Jackson replied. "It seems to me that when blacks kill whites, which is rare, it's swift justice. When whites kill blacks, it's rebellion. When it's black on black it's a struggle that shows a kind of permissiveness. …Racial disparity and alienation and mistrust are very combustible factors."
Host Chris Wallace pressed Carson on racial disparities in the police force in Ferguson, where African Americans are severely underrepresented. Carson responded that the minority communities needed to become more involved.
Watch the clip below, via Fox News:
[Image via screengrab]
——
>> Follow Evan McMurry (@evanmcmurry) on Twitter
Have a tip we should know? tips@mediaite.com