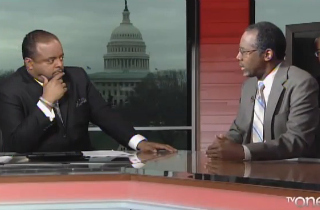 Neurosurgeon and newfound conservative folk hero Dr. Ben Carson sat down with Roland Martin on NewsOne Now on Friday morning and took some tough grilling from callers and the host himself.
The highlights below:
On his controversial remark that Obamacare is the worst thing since slavery: "[I was] not equating [Obamacare] to slavery. But the reason that it is such a problem is because it turns control of the most important thing you have over to someone else. Someone else gets to make decisions and tell you what you have to do."
A caller asked how Carson can align himself with a certain conservative television network: "I see a lot of bias on both sides. I think the people who offend me the most are the ones who say, 'Because you're black, you have to think a certain way. And if you don't, you're crazy and there's something wrong with you.'"
"We really need to get over the obsession with race," he added, prompting Martin to battle him over the concept of race and whether racism is still an institutional problem.
When asked whether he'd speak out against the inflammatory rhetoric of conservatives like Ted Nugent, Rafael Cruz, or Louie Gohmert, Carson kinda-sorta answered: "I will always come down on the side of what's right. I'm not a partisan person. […] I don't really care that much about what other people have to say. I've never really cared what other people have to say. That takes a lot of courage."
On whether he'll run for president: "I'll leave that in the hands of God."
On his infamous comparison of the United States to Nazi Germany: "I find it rather amusing that many on the left have taken what I said about Nazi Germany and run with it. Basically what I said is most of those people in Nazi Germany did not believe in what Hitler was doing, but did they open their mouths? Did they say anything? No. And the fact of the matter is the only thing necessary for evil to triumph is for good men to do nothing."
And on the NAACP: "Do you ever see them come out in support of a conservative black person?"
Watch the full interview below, in two parts, via TV One:
—
— —
>> Follow Andrew Kirell (@AndrewKirell) on Twitter
Have a tip we should know? [email protected]