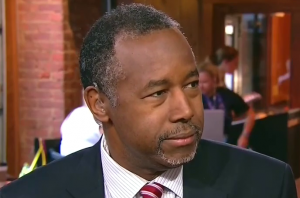 Former Republican presidential candidate Ben Carson went on CNN Wednesday to defend remarks during his Republican National Convention speech that appeared to tie Hillary Clinton to the biblical source of all sin and evil, Lucifer.
"One of the things that I have learned about Hillary Clinton is that one of her heroes, her mentors, was Saul Alinsky," Carson said Tuesday night. "He wrote a book called Rules For Radicals. On the dedication page, it acknowledges Lucifer, the original radical who gained his own kingdom."
"So are we willing to elect someone as president who has as their role model somebody who acknowledges Lucifer? Think about that," he told the crowd.
On CNN, Carson defended those comments. "Recognize that this is a very famous book, Rules for Radicals…" he said. "It's very interesting how it uses controlled anarchy in order to change us from a democratic republic to a socialist society. And I don't think those things are consistent with the principles and the basis of this nation."
"I get that Lucifer is a powerful term, especially with a group that is faith sensitive, but do you feel that it was going too far in retrospect?" asked host Chris Cuomo.
"Again, when you look at the principles that are espoused by Christ, by Christianity, and you look at what's espoused by evil, and then you look at things like killing babies, you look at things like redefining marriage away from what the biblical definition is, I think that there's pretty good consistency there," Carson said.
Watch above, via CNN.
[Image via screengrab]
——
>>Follow Alex Griswold (@HashtagGriswold) on Twitter
Have a tip we should know? tips@mediaite.com