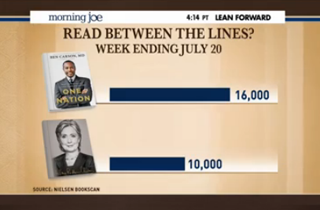 Last week, according to the latest figures from the Nielsen BookScan, Ben Carson's memoir "One Nation" outsold Hillary Clinton's book Hard Choices by a whopping 60%.
Figures provided to The Daily Caller indicated that Carson's book, which was released a week before Hard Choices, sold roughly 16,000 copies to Clinton's 10,000. At this point, total sales of Carson's book trail Hillary's by only 9,000 copies — which is not that much, considering Hard Choices shipped a million books to stores in the first place.
Both authors are widely viewed to be possible presidential contenders in 2016, which will undoubtedly lead to pundit-class questions about Hillary. On MSNBC this morning, the panelists debated whether people were "fatigued" by Hillary, and whether this book battle could be seen as a proxy war between two potential presidential candidates.
"A book tour is like a presidential campaign," said Donny Deutsch. "You package the product and try to get people excited about it. [And] the book tour and the book's failure to sell as many copies as a publisher, suggests she needs a different repackaging. Still the front-runner for the White House, but you've got to be about the future and about being forward-looking and she is not right now."
UPDATE — 1:19 PM EST: Readers are pointing out that the people buying Carson's book are, in fact, a massive Super PAC placing bulk orders. So…no one wins?
Watch that below, via MSNBC:
[h/t The Daily Caller]
[Image via screenshot/MSNBC]
— —
>> Follow Tina Nguyen (@Tina_Nguyen) on Twitter
Have a tip we should know? tips@mediaite.com