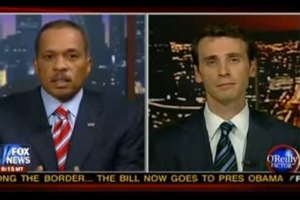 Arizona Congressional candidate Ben Quayle is now known on the national scene for three things: being Vice President Dan Quayle's son, having some questionable relationship with a website of ill repute, and calling Barack Obama the "worst president in history." Today on the O'Reilly Factor, the younger Quayle squared off with fill-in host Juan Williams to try to make a national splash on policy as well as personality.
In a world of Sharron Angles and Rand Pauls, Quayle didn't actually do so terribly. In fact, the most shocking part of the interview was his continued defense of his statement that there has never been a worse president in history than Obama, arguing that while he "had thought long and hard about it" and "wasn't happy to make it," he strongly believed it. "President Obama and his misguided policies and ideology have really fundamentally changed our country in the wrong way more so than any other president in our history," he concluded.
Most of Quayle's interview continued in a similarly hyperbolic vein, claiming Obama is "destroying the American dream" and other such acts. But he also made the valid point that Arizona is the kind of state where polls are showing residents might agree with him more than in other parts of the country. "We are at the forefront of this administration's attacks," he told Williams, discussing illegal immigration and Mexican drug cartels.
Williams didn't shy away from asking tough questions, though, asking Quayle, "Is it fair to say that you're simply pandering to the worst instincts on the right" to win the election? Quayle responded with a fairly textbook conservative definition. More interesting was his answer to questions about that website of ill-repute, Dirty Scottsdale, which he called "despicable and obnoxious" and part of a "smear campaign" by his opponents.
Watch the interview via Fox News below:

Have a tip we should know? tips@mediaite.com