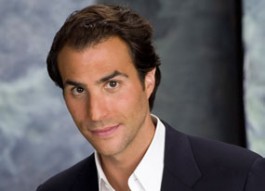 Ben Silverman, the embattled chairman of NBC Entertainment and Universal Media Studios is leaving the company and partnering with Barry Diller's IAC to launch a new company, which, according to Bloomberg, will "capitalize on the ever-evolving world of multimedia production and distribution, leveraging unique marketing expertise."
NBC has announced that Jeff Gaspin, will take over Silverman's role as head of the entertainment division. Gaspin is currently the head of NBCU's enormously successful cable operations (SyFy, USA), and will stay in that post for the time being, though Bonnie Hammer, currently president of NBC Universal Cable, comes immediately to mind as a possible replacement. Hammer was recently the subject of a glowing Newsweek profile, in which WWE chairman Vince McMahon speculated she could 'someday succeed Jeff Zucker as head of NBC Universal.'"
More details on the venture from Bloomberg:
The company, which will be headed by Ben Silverman, will unite producers, creators, advertisers and distributors under one roof and produce all forms of content for distribution across a variety of platforms around the world.

This will be the industry's first global platform that connects advertisers, distributors and content creators early on in the development process, enabling advertisers to be a partner in campaigns and content creation.
The New York Times notes that Silverman's two-year contract with NBC ends this summer. Silverman will apparently remain at NBC through the fall to "support the transition to Mr. Gaspin, and to back the start of new fall television series for the NBC network." Primarily Jay Leno's move to 10pm.
Have a tip we should know? [email protected]