Ben Stein Defends Herman Cain Against Personal Life Allegations: 'He's Not Running For Pope'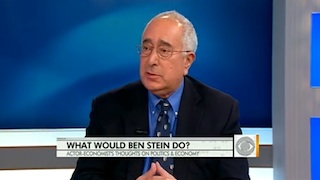 Ben Stein, he of multi hyphenates and mono tones, appeared on The Early Show this morning to talk all of the big stories of the day. He spent a lot of time discussing Herman Cain's many problems right now and ended up defending the candidate. Perhaps coming from experience as someone who worked with a president who may not have been a great guy personally (Stein was a speechwriter for Richard Nixon), Stein stressed the importance of looking at a candidate's policies rather than gossip. "If you concentrate on economic policy that will give a man or a woman a job, that means something," he argued. "To concentrate on a person's gossipy love life, that doesn't mean a darn thing."
RELATED: Counter-Point: Can We Stop Focusing On Whether Or Not Herman Cain's Seen His Wife?
"He's not running for pope. He's not running for saint. He is running for president. We've had lots of presidents who had girlfriends. We had President Kennedy who was a great president, he had girlfriends. President Roosevelt who was with his girlfriend when he died, he was one of the greatest presidents that's ever been. Thomas Jefferson had a very well-documented affair. I'm not saying it's a great thing; I'm just saying people are human. We can't judge people by super-human standards."
Alright! So that means Cain has a sweet new endorsement, right? Eh, maybe not. Stein then explained that, when you actually look at policy, he isn't much a fan of Cain, deriding the candidate's 999 plan. Instead, Stein argued that his beliefs were much closer to President Obama's, claiming a need to raise taxes on the rich.
"I live in Beverly Hills part of the year. Practically every person has at least one Bentley. That those people can't pay a few thousand more in taxes is hard to believe. Many of them have two or three Bentleys! If they can't afford to pay a little more in taxes, something is wrong."
This was all very interesting but was completely overshadowed by a moment at the end of the interview when Stein revealed that his 24-year-old son had built special steel grating on his house to keep out zombies.
Wait, what? What the hell does Ben Stein's son know that I don't?
Watch the clip from CBS below:
Have a tip we should know? tips@mediaite.com