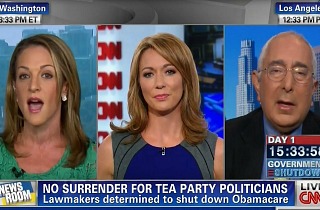 Ben Stein, actor and former advisor to Presidents Richard Nixon and Gerald Ford, appeared on CNN on Tuesday with Washington Times Senior Editor Emily Miller to discuss the government shutdown. The two conservatives engaged in a verbal brawl over the wisdom of the Republican Party forcing a shutdown. Stein insisted that the demands the GOP placed on President Barack Obama and the Democrats which led to a shutdown were "nonsense."

"We Republicans started out the idea of universal health care," Stein declared. "We Republicans, in 1973, sent a message to Congress asking for universal health care. It was killed by Edward Kennedy for no good reason."
"It's a perfectly good idea," Stein said. He added that, if the GOP wants to prove that universal health coverage is a bad idea and the Affordable Care Act will not work, allow it to be fully implemented and ultimately "ruin the Democratic Party for generations."
"We control one-half of one-third of the government and we don't want to see Obamacare implemented, which is happening today," Miller said in an effort to justify the shutdown. "So, let's do what we can."
RELATED: Hecklers Interrupt House GOP Presser: 'You Guys Are Worthless'
CNN's Brooke Baldwin played a clip of former Utah Gov. Jon Huntsman blaming a "small fraction" of the GOP for the shutdown. Miller corrected him, noting that the "small faction" consists of a majority of the U.S. House and every Republican member of the U.S. Senate.
"This is about the American people saying we're not being listened to," Miller added.
"This is a flight from responsibility on the part of the Republican Party," Stein shot back. "It is not allowed to blow up the government in order to change a law."
Miller and Stein battled over why there needs to be a shutdown in the first place, considering that every employee or agency that is shorted on funds is fully compensated retroactively when the government reopens.
"It's all the control they have to try to avert Obamacare from hitting today," Miller said.
"Well, all the control a child in a playground has is to throw sand in the other child's face," Stein countered.
"The Republicans have sent over five bills to the Senate, and they're the ones that have rejected them." Miller said of the Senate Democrats.
"But they're bills that are nonsense," Stein replied.
Watch the segment below via CNN:
[Photo via screen grab]
— —
> >Follow Noah Rothman (@NoahCRothman) on Twitter
Have a tip we should know? tips@mediaite.com