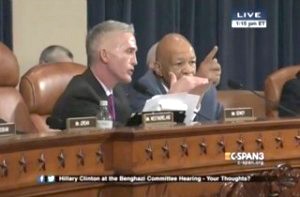 Before Thursday's House Select Committee on Benghazi hearing adjourned for a short break, Republicans and Democrats on the panel found themselves arguing over whether the committee should release various witness transcripts.
Rep. Elijah Cummings (D-MD), the ranking member, accused the committee chairman, Rep. Trey Gowdy (R-S.C.), of making "inaccurate statements" in recent months.
Cummings called on Gowdy to release the transcripts from witness interviews the committee has conducted, and said a recorded vote on the disclosure is necessary. Gowdy questioned Cummings as to whether he also wants the transcripts of interviews with survivors of the Benghazi attack to be released.
"Why don't we just put the entire transcript out there and let the world see it?" Cummings said of former Clinton confidante Sidney Blumenthal's interview transcript. "What do you have to hide?"
Gowdy agreed to have a business meeting, separate from the public hearing, where committee members can vote on whether to release specific transcripts. "And while we're there, we can also take up the twenty-some odd outstanding discovery requests that we have to different executive branch entities," he added. "Why don't we just take all of it up then?"
Rep. Adam Schiff (D-CA) said Blumenthal's in particular should be made public because the contents of it would refute some of the allegations made against him in public. Still, Gowdy said certain transcripts should not be selectively released over others.
"I'm not going to release one transcript of someone who knows nothing about Libya by his own admission, while people who risked their lives — you have no interest in their story getting out," Gowdy responded. "You don't want the 18 DS agents, you don't want the CIA agents. The only transcripts you want released are [Hillary Clinton's former Chief of Staff] Ms. [Cheryl] Mills and Sidney Blumenthal's."
Schiff immediately fired back, saying Gowdy was only focused on questioning Clinton about Blumenthal and selectively released his emails over the summer. Gowdy disagreed with that characterization, saying they are instead Clinton's emails because she was often on the receiving end of the correspondence and responded to many of his messages which contained unverified intelligence information about Libya during its civil war.
"And I'll tell you what, if you think you've heard about Sidney Bluementhal so far, what 'till the next round," Gowdy concluded. "And with that, we're adjourned."
Watch the video above, via C-SPAN.
[Image via screengrab]
— —
>>Follow Andrew Desiderio (@desiderioDC) on Twitter
Have a tip we should know? [email protected]