Benghazi Father on Trump Apologizing to Khan: Hillary Never Apologized for My Son's Death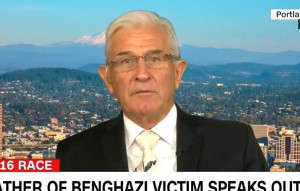 Today, CNN's Carol Costello talked with the father of a fallen Navy Seal about whether Donald Trump has any particular obligation to apologize for his feud with Humayun Khan's family.
Charles Woods is the father of Tyrone Woods, the Navy SEAL who died during the 2012 Benghazi attacks. Hillary Clinton defended her handling of the disaster but Wood didn't seem satisfied. Woods slammed into her for telling him and other parents of the deceased that the consulate attack were due to anti-Islamic video.
"She not only lied to the American people, she also lied to myself and to other family members," Woods said. "I would like really for her to come clean and to tell the truth…If there had been a rescue attempt, my son would still be alive."
The discussion made its way to Trump's controversial fight with Khizr Khan, and other gold star families who are slamming the mogul for his rhetoric about veterans and Muslims. After Woods blasted Clinton's national security record further, Costello asked him whether he thinks Trump should apologize to the Khans for his comments.
"I don't know what [Trump] originally said, and I don't know what he said since then," Woods said. "I know who should apologize, and that would be Hillary Clinton, for lying to the American families who lost their loved once as well as to the American public. She hasn't apologized for that yet."
Wood's sentiments echo those of Patricia Smith, who was on CNN yesterday and also said Trump doesn't have to apologize, and that her treatment by Clinton was worse than how the mogul treated Khan.
[Image via screengrab]
— —
>> Follow Ken Meyer (@KenMeyer91) on Twitter
Have a tip we should know? tips@mediaite.com